Despite the paint problems experienced by other Airbus A350 operators, the boss of Etihad Airways remains sanguine about the potential for similar issues to afflict its fleet of the carbonfibre widebody.
Gulf rival Qatar Airways in particular has been vocal about the issue of skin-paint deterioration on several of its A350s and its increasingly bitter dispute with the airframer is now the subject of litigation in the UK.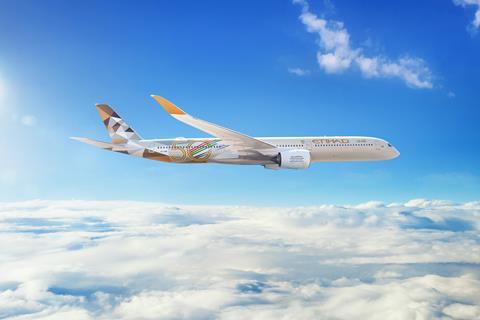 But Etihad chief executive Tony Douglas, speaking during the carrier's inaugural passenger service with the A350-1000 on 31 March, said he was not surprised that the problem had arisen.
"We had a similar problem on the 787 when they got to three years old," he says. "We managed it together with Boeing."
Just like the A350, the Dreamliner features a composite fuselage and wing.
In Douglas's view, the technology used to ensure the paint adheres to the carbonfibre skin of the aircraft is susceptible to decay when exposed to direct UV light, which increases in strength at altitude.
The flexibility of composite wings compared with their metallic equivalents may also be a contributory factor, Douglas argues.
"Am I surprised? No, because it's composite. But we solved it with Boeing and if we find ourselves over time with a similar challenge I'm sure we will solve it without any kind of fuss or drama with Airbus."
Meanwhile, Douglas insists that Etihad will continue to serve the Russian market despite the ongoing invasion of Ukraine.
"We do have a service that connects into Moscow and that is currently in operation and that's a network decision that is in place and unless we are instructed accordingly, we'll maintain that position," he says.
Tim Clark, president of fellow UAE carrier Emirates, recently said his airline was in the same position: "So long as our owner requires us to fly there, we will continue."