A group campaigning for the increased use of sustainable aviation fuel (SAF) in Europe estimates that production can be scaled up to meet 10% of the bloc's jet fuel needs by 2030 – although hitting that target will require concerted policy action and come with a price tag of at least €120 billion ($142 billion) over the next 15 years.
Members of Clean Skies for Tomorrow (CST) say they support the EU's SAF blending mandate which is expected to be published by mid-July. Its Guidelines for a Sustainable Aviation Fuel Blending Mandate in Europe publication assesses the feasibility of the production ramp-up required and its likely costs.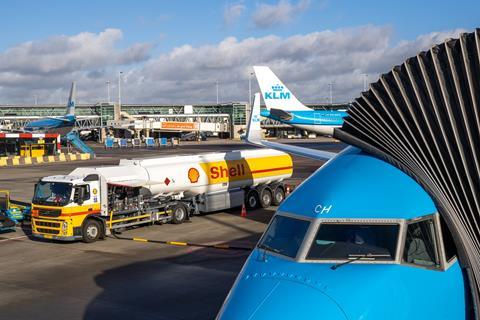 CST suggests that using "tight sustainability criteria" for feedstock, SAF could account for 10% of jet fuel usage in Europe by 2030 "if supported by appropriate and timely measures".
However, the CST asserts that policies, such as a blending mandate that increases over time, must be implemented to create certain future demand for SAF, in order to make the economic case for the investment in production plants. In addition, it says public funding will be necessary to mature new production technologies, plus aviation must be given "preferential access" to "sustainable biomass resources".
An intermediate blending mandate of 2-5% of total European jet fuel consumption by 2025 could be met by existing and planned SAF plants, it notes.
Any SAF blending mandate could be implemented by an obligation on fuel suppliers, it says, and would apply to all flights departing from Europe.
But the increase in SAF production will come with a cost. Government backing for new SAF plants to reach the 10% target "could be in the order of €120 billion in total over the next 15 years", the CST says. The majority of this would "support the commercialisation of SAF production pathways that are currently at lower technology readiness levels but have the greatest potential to scale" but would represent the largest share of SAF outpost post-2030.
Additional public support may be needed to subsidise SAF in order to "bridge the cost differential" to conventional fuel and prevent "competitive distortion and fuel tankering".
Members of the CST include Airbus and Boeing, operators within the IAG and Air France-KLM airline groups, engine provider Rolls-Royce, numerous airports, and fuel providers such as Shell, Total Energies, LanzaJet and Neste.