Eurocontrol's baseline expectation is that there will be no return to normal routings through Russian or Ukrainian airspace by the end of its 2028 traffic forecast window.
The European network manager outlined that assumption on 17 October as it released an updated pandemic recovery report covering the period 2022-2028, which shows that the war in Ukraine has combined with operational issues at some airports to weigh on flight numbers more significantly than it expected only four months ago.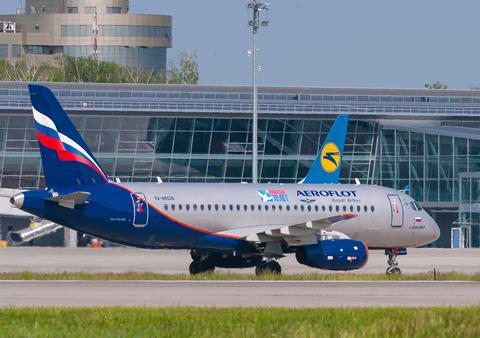 Aside from airspace restrictions, the effects of the war in Ukraine include "weak" GDP growth and rising energy prices, Eurocontrol states, alongside the impact of inflation on air travel demand.
"Uncertainty remains very high, with risks skewed to the downside," it says of the outlook.
Eurocontrol now sees flight numbers being at 84% of 2019 levels this year, followed by 92% in 2023, 98% in 2024 and 101% in 2025, under its baseline scenario. That marks a downgrade from the forecast made in June, which showed flights reaching 85% this year, 95% in 2023 and 99% in 2024, before similarly exceeding pre-Covid levels in 2025.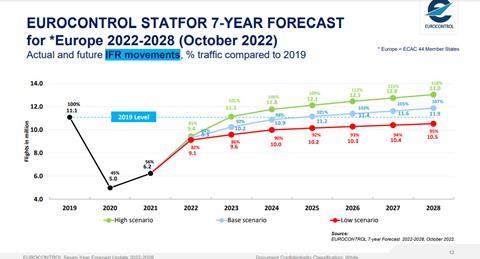 "We have seen strong demand this summer but this has been held back, both by the capacity of the sector to handle the rapid growth and also by the impact of the war in Ukraine," says Eurocontrol director general Eamonn Brennan.
"We are optimistic about traffic recovering to around 92% of 2019 levels next year, but there are still significant downside risks that could affect the recovery."
Eurocontrol says that alongside the impact of the war in Ukraine, more operational disruption relating to staffing issues cannot be ruled out for 2023.
But it also cites "relatively good passenger confidence" coming out of the pandemic.
The airspaces restrictions relating to the war in Ukraine also cover Belarus and Moldova, Eurocontrol notes, and have brought about a reduction in overflights of the Baltic region, Scandinavian states and Poland, with routings via southeast Europe rising.
Pre-pandemic, around 85% of the flights tracked by Eurocontrol were commercial airline passenger operations, with the rest accounted for by all-cargo, business aviation and non-scheduled services.