European competition regulators have launched a probe into its suspicions that Romanian support measures for grounded local carrier Blue Air break state aid rules.
The Romanian carrier suspended flights in September last year amid mounting financial challenges. In November the Romanian state took a 75% stake in Blue Air after enforcing a guarantee on owed state aid granted to the airline during the pandemic.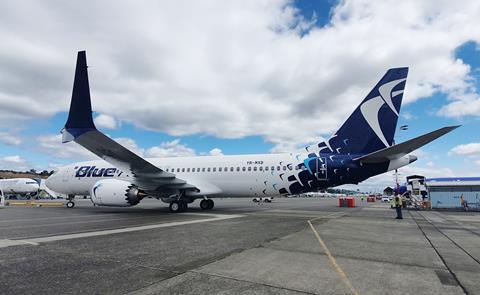 The state aid relates to a €28 million ($31 million) public guarantee to compensate for the damages resulting from pandemic travel restrictions and a further guarantee of €34 million on a rescue loan to cover Blue Air's liquidity for six months. The package was agreed in August 2020 as the EU temporarily eased state aid rules in light of the pandemic.
Romania committed to terminate the guarantee after six months unless a liquidation or restructuring plan was submitted to the Commission for state aid assessment.
In announcing the in-depth probe today, the Commission says that a restructuring plan for Blue Air running until September 2025 has been "updated several times" since it was first communicated in April 2021. "It includes an extension of the duration of the guarantee on the rescue loan to six years (including the initial six months rescue period), allowing for a repayment of the aid until 2026, as well as planned restructuring measures and expected private finance," it says.
"At this stage, the Commission has concerns that the restructuring plan and the aid measures implemented to support this plan are not line with EU State aid rules, in particular with the Guidelines on rescue and restructuring aid," it says.
The probe will examine whether the restructuring plan can restore Blue Air's long-term viability without additional or continued state aid, whether Blue Air's own or market contributions to the restructuring costs are "sufficient, real, actual and free of any aid" and thus the restructuring aid is proportionate. It will also look at whether there are "appropriate measures" in place to limit competition distortions created by the state support.
Blue Air was operating a network predominantly connecting Romania with points in Europe, as well as a small number of Italian domestic routes from Turin, prior to suspending flights in September last year.