Fresh thinking on business models will be key if operators are to capitalise on new zero-emission technologies as they begin to reach the market, panelists highlighted during FlightGlobal's Disruptive Propulsion webinar on 9 June.
During a wide-ranging debate which looked at the challenges and timeframes facing new propulsion solutions, including electric and hydrogen technologies, Nikhil Sachdeva, global lead for sustainable aviation at consultancy Roland Berger noted the potential these will have to open new markets.
"What we are talking about with this revolution is maybe having to push the [airline] point-to-point business model even one step further, not looking at tier A-to-tier A airports, or tier B-to-tier B, but maybe tier C-to-tier C airports. The airports where today you may only be able to fly general aviation hobby flights out of, they could become tomorrow's genuinely commercial airports," he says.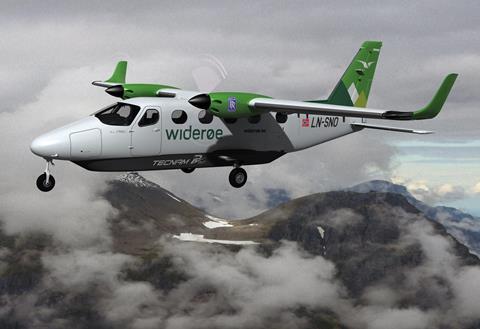 Chief executive of German hydrogen powertrain specialist H2Fly, Dr Josef Kallo, outlined progress with the firm's fuel cell-powered HY4 demonstrator and his optimism for the scaling up of the technology, as part of Deutsche Aircraft's future plans for its D328eco programme.
"Let's say we are aiming for a fixed-wing 40-seater, Dornier 328-like aircraft – something like 1.8MW [of power] on both sides. With the right upscaling capabilities….I think we have really good chance to go with a first flight in 2025 to 2026, then in 2030, with the right environment, I am very confident based on the technology we see today, that we can have the first product," he says.
Hydrogen and electrics: the great disruptive propulsion debate
To watch a replay of latest from the FlightGlobal's webinar series, sponsored by Pratt & Witney, register here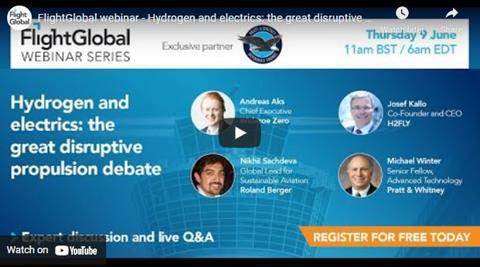 Sachdeva says the arrival of such aircraft could cause a "massive change" to business models.
"Today, airline business models and the cost structures we are used to are entirely a function of the economies of scale you can get with hundreds of passengers on these [existing] planes," he says.
"If you reduce those numbers down to 40, you need a different business model to make it possible without completely destroying the wallets of your passengers."
Norwegian regional carrier Wideroe has embarked on a series of initiatives aimed at developing new technologies – establishing a clean-sheet company, Wideroe Zero, to pursue these aircraft concepts.
"These new technologies come with plenty of opportunities, but also some constraints, and you cannot really expect them to fit into your existing business model," says Wideroe chief strategy officer Andreas Aks, who heads the Wideroe Zero unit.
"It is a question of how can we design the best business model when we look at the new technology out there and we try to understand what the customer really wants. That is the very reason we decided it was necessary for us as an airline to be willing to think afresh and start with a clean sheet when we want to make the most of new technologies."
Wideroe earlier this year linked up with Embraer and Rolls-Royce on a 12-month study for a conceptual zero-emission regional aircraft seeking to understand the propulsion and operational options for such types. It had already linked up with Rolls-Royce and airframer Tecnam to develop an all-electric passenger aircraft by 2026, while also working with Embraer urban air mobility spin-out Eve on the potential operation of electric vertical take-off and landing (eVTOL) aircraft in Scandinavia.
"Many of the flights we operate are quite short," says Aks. "For that reason we believe we have a role to play as a testbed for new technologies, because we can make use of these technologies in the early phase of their implementation."
He also sees development of sustainable flying as being in aligned with changed customer expectations.
"What we are seeing, particular in our part of the world, is the customer cares more and more about this. And we see customers are looking at this in a very different perspective than we do as an industry normally. More and more people are looking at their personal CO2 balance sheet if you like, and then they find flying is accountable for a quite a large part of their CO2 emissions.
"So when they start being concerned about this, I believe we should listen and that is one of the main reason we have been so focused on this."