The Federal Aviation Administration is insisting its operation is not to blame for the last several days of a massive airline operational meltdown in New York.
The agency tells FlightGlobal on 28 June that air traffic control staffing was "not an issue" affecting US East Coast flights during the last two days.
"There have been no East Coast staffing triggers Monday or Tuesday," the agency adds.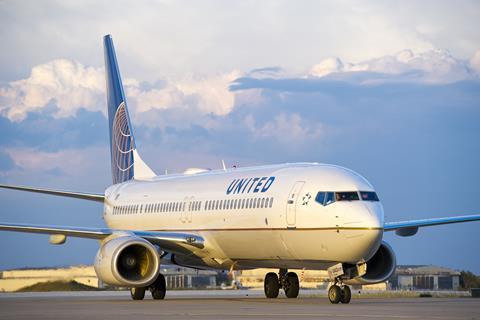 The still-ongoing airline upheaval actually began last weekend, when United Airlines, Delta Air Lines, JetBlue Airways and others began cancelling hundreds of flights.
On Monday, United's chief executive Scott Kirby squarely blamed the FAA for the prior weekend's troubles, saying the agency could not keep up due to lack of enough qualified air traffic controllers.
While the FAA claims air traffic control is no longer an issue at New York, it does not address its performance or staff levels on Saturday or Sunday.
The scope of the ongoing airline upheaval has been massive. On Sunday, 25 June, for instance, airlines cancelled 611 flights in and out of New York's three prime airports – 15% of total flights, according to FlightAware.com.
That same day, carriers delayed about 40% or roughly 1,640 flights to and from New York.
Newark Liberty International airport has fared worst among the three airports, while United, which operates a Newark hub, has cancelled far more flights than other airlines. (Though Delta and JetBlue have had no shortage of cancellations.)
Following last week's troubles, United's Kirby on Monday sent a message to United's workers in which he mentioned poor weather but directly blamed the FAA.
"The FAA frankly failed us this past weekend," Kirby's memo said, adding that the agency was "seriously understaffed" and had been "letting us and our customers down".
The FAA had cut flight-arrival rates 40% and departure rates 75%, due likely to "understaffing" and controller inexperience, Kirby added.
But the air-travel snafu actually worsened on Monday, even as the FAA said it was not to blame.
Carriers cancelled about 1,260 flights to and from New York that day – 30% of the total – including about 40% each at Newark and LaGuardia airports.
More of the same on Tuesday, when United scrubbed 783 flights across its network – 26% of its schedule, FlightAware shows.
The situation seems to be at least improving. As of 14:00 local time on 28 June, 14% of flights from LaGuardia had been cancelled, and 11% from Newark, while United's has nixed 407 flights – 14% of its operation.
In a 28 June statement, United says, "Several consecutive days of severe weather and lingering thunderstorms in the Northeast, combined with FAA staffing constraints over the weekend, have resulted in a tough operating environment, especially for our customers flying in and out of the New York area".