Collapsing domestic travel in Mainland China — the epicentre of the coronavirus outbreak — coupled with falling travel demand to and from the Asia-Pacific region, led to the sharpest drop in demand in almost two decades.
Releasing its global passenger traffic data for February, IATA says RPKs for the month fell 14.1% year-on-year, making it the steepest decline in traffic since the September 11 attacks in 2001.
Capacity, measured in ASKs, declined 8.7% year-on-year, and overall load factor fell 4.8 percentage points to 75.9%.
International passenger demand fell 10.1% year-on-year, reversing the 2.6% increase recorded in January. IATA adds that this is the worst showing since the Severe Acute Respiratory Syndrome (SARS) outbreak of 2003.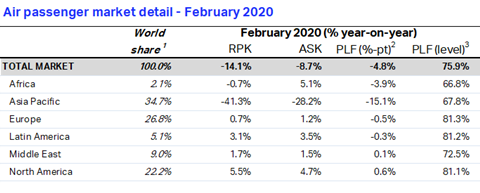 ASKs dipped 5%, which led to a load factor decline of 4.2 percentage points to 75.3%.
Domestic passenger demand performed worst — RPKs for the month dropped 20.9% year-on-year, led mainly by the collapse of domestic travel in Mainland China. February was the month multiple lockdowns and travel restrictions within the country were put up.
Overall domestic ASKs fell 15.1%, and load factor dropped 5.6 percentage points to 77%.
ASIA-PACIFIC DEMAND COLLAPSE FELT GLOBALLY
By region, Asia-Pacific carriers bore the brunt of collapsing demand: RPKs fell 41%, while ASKs saw a decline of nearly 17%, with load factors plunging 13.2 percentage points year-on-year to 67.9%.
The corresponding fallout from the outbreak caused traffic declines in two markets — North America and Africa.
North American carriers saw a 2.8% traffic decline for the month, reversing the 2.9% increase recorded in January. This was due mainly to entry restrictions, as well as falling volumes on Asia-North America routes. ASKs fell 1.5%, while load factor slipped 1 percentage point to 77.7%.
For African carriers, the traffic decline of 1.1% for the month "was driven by around a 35% year-on-year traffic fall in the Africa-Asia market", says IATA.
February's data was the worst for the continent's carriers since 2015, and reverses a 5.6% traffic increase recorded in January.
Latin American carriers too, saw traffic drop — at 0.4% year-on-year — though IATA notes this was an improvement from January figures, where traffic fell 3.5%.
"However, the spread of the virus and resulting travel restrictions will be reflected in March results," the association adds. Capacity fell 0.4%, while load factor was flat at 81.3%.
Only European and Middle Eastern carriers saw modest increases in passenger traffic for February, although they too, felt the impact of falling travel demand from Asia.
European carriers saw demand remain about the same compared to last year, increasing just 0.2%. It was, however, the region's worst showing in a decade, IATA notes.
"The slowdown was driven by routes to/from Asia, where the growth rate slowed by 25 percentage points in February, versus January," it adds.
ASKs rose 0.7%, while load factors fell 0.4 percentage points to 82%.
Middle Eastern carriers saw RPKs increase 1.6% for the month, a slowdown from the 5.3% growth in January. ASKs went up by 1.3%, while load factor inched up 0.2 percentage points to 72.6%.
'AVIATION's DARKEST HOUR'
Calling the outbreak a "sledgehammer" which hit airlines hard in February, IATA chief executive and director-general Alexandre de Juniac says the outbreak's impact on aviation "has left airlines with little to do except cut costs and take emergency measures in an attempt to survive in these extraordinary circumstances".
He doubled down on calls for more governments to help their airlines through "the biggest crisis that the industry has ever faced".
"This is aviation's darkest hour and it is difficult to see a sunrise ahead unless governments do more to support the industry through this unprecedented global crisis. We are grateful to those that have stepped up with relief measures, but many more need to do so," de Juniac adds.