Fiji Airways is looking at expanding its North America and Asia networks – possibly flying to Mainland China for the first time – as it grows its Airbus A350 fleet.
Airline chief Andre Viljoen says the new aircraft (DQ-FAM) puts the carrier in a "stronger position" to grow its network. It highlights "some possibilities" it is exploring include Dallas, Seattle in the USA, as well as Beijing and Shanghai in China. The airline currently has no direct flights to Mainland China, and only flies to Hong Kong.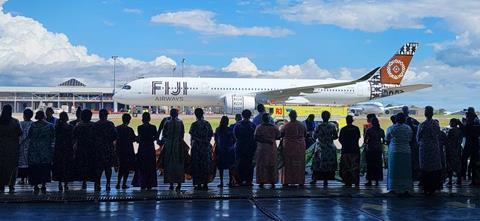 Fiji Airways is also looking at growing its short-haul network in the Pacific and Australia, to cities such as Noumea and Port Moresby. It adds that the new jet could also be deployed to boost capacity on its Australia and New Zealand network, as well as to Hong Kong, Fiji Airways adds.
It took delivery of the new A350-900 on 15 August, the third example in its fleet. Its two other A350s entered service in November and December 2019.
According to Cirium fleets data, the newest aircraft (MSN251) was built in 2018 and meant for Hong Kong Airlines, but was never put into service. Less than a year later, it was redelivered to sister company Hainan Airlines, but was similarly stored for more than a month in Tarbes in France.
Airbus' asset management unit later bought th aircraft before delivering it to Fiji Airways.
Viljoen says the airline was "able to negotiate a lucrative deal to acquire it", but did not elaborate.
Apart from A350s, Fiji Airways' fleet also comprises four A330s, five Boeing 737 Max 8s and a sole 737-800.