Finnair highlighted uncertainty about the durability of high passenger demand as it reported its third consecutive quarterly operating profit amid a strategic overhaul of the business.
Outlining its first-quarter 2023 results on 27 April, the Oneworld carrier said the year had started on a "positive note", with passenger demand and "well-progressed strategy implementation" driving its improved performance, alongside a unit-revenue boost from industry-wide capacity constraints,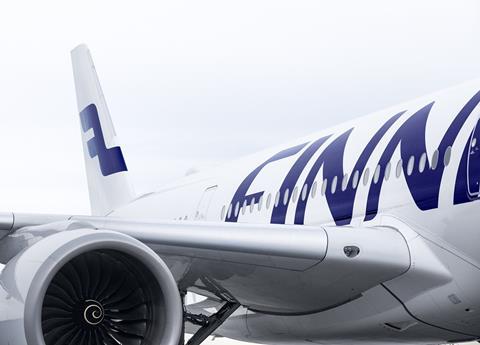 Finnair's comparable operating profit of €1 million ($1.1 million) for the January-March period compares with a loss of €133 million in the same period of 2022, while its net profit of €3 million represents a year-on-year swing from a loss of €213 million. Revenue in the first quarter of €695 million was up 74% year on year.
However, Finnair notes that its revenue and comparable operating performance are not expected to reach 2019 levels this year.
Indeed, while Finnair chief executive Topi Manner says that "we are heading in the right direction", he emphasises that the airline still faces "a long road to recovery".
Notably, post-summer passenger demand and outside uncertainties are factors to watch, he suggests.
"We cannot expect that the current strong demand situation is a permanent one," Manner states. "Our operating environment remains challenging in many respects, as the fuel price has remained high, inflation has not subsided, interest rates have risen, and the Russian airspace remains closed as the war in Ukraine continues."
And over the past three years, Manner notes, Finnair has been accumulating significant debt, which today amounts to more than €1 billion.
"Therefore, we are determined to continue implementing our strategy, seeking both an increase in unit revenue, and a reduction in unit costs, in order to be able to achieve our financial targets in a normalised demand and capacity environment," he states.
As that transformation continues, Finnair highlights its "more balanced" network today, with a greater focus on regions such as North America and the Middle East. Its losses in the first quarter of last year had come amid Russia's invasion of Ukraine, which closed the former's airspace to European carriers and forced Asia-focused Finnair into a strategic rethink while it was only just emerging from pandemic lows.
"Unfortunately, there is no end in sight for the Russian airspace closure," Manner says.
Finnair reiterates its estimate that it will operate 80–85% of 2019 capacity this year, as measured in available seat kilometres, with Manner adding that "the big changes have taken place" when it comes to strategic adjustments to Finnair's fleet.