The chief executive of Finnair has acknowledged that Chinese airlines have an advantage over European carriers in still having access to Russian airspace, but says he does not expect all passenger segments to take up the option.
Speaking to FlightGlobal at the Airlines for Europe (A4E) Aviation Summit in Brussels on 29 March, Topi Manner says the carrier is seeing "significant pent-up demand from China" since the country announced its surprise reopening at the turn of the year, but also cites the "uneven playing field" that results from Chinese carriers still being able to overfly Russia on European flights.
That dynamic was acknowledged in January by Henrik Hololei, then the European Commission's director general for transport and mobility, who said that Chinese carriers are not breaching aviation regulations by overflying Russia and that Brussels has no power to intervene.
Nevertheless, "there will be customer segments that probably do not want to fly through the Russian airspace", Manner says, citing European corporate travellers as an example.
"It would be very hard for European companies to justify that their employees are flying with Chinese carriers through the Russian airspace while there are sanctions in place," he states.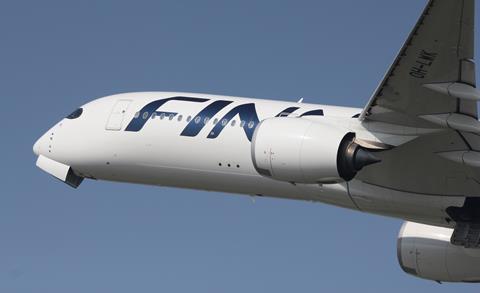 Still, the Finnair chief believes Europe needs to prepare for the day when such flights are possible again for European operators – a key development for a carrier that put Asia front and centre of its pre-Ukraine war strategy. But before that can happen, "we need peace in Ukraine – we need lasting peace", he insists, and guarantees of safety.
As the war continues, there is no clarity on when that point will be reached, with European network manager Eurocontrol stating in its latest seven-year forecast that its baseline scenario was for Russian airspace restrictions to be in place at least through to 2029.
For now, Finnair continues to serve Asia's mega-cities – including Tokyo, Osaka, Seoul, Beijing, Shanghai, Singapore, Hong Kong, Delhi and Mumbai – via longer routings, having cut back on frequencies and secondary destinations amid the airspace closures. With Asia capacity lower than had been expected before Russia invaded Ukraine, Finnair has beefed up its North American and Middle Eastern networks, notably through a deepening of its partnerships with alliance stablemates including Alaska Airlines, American Airlines and Qatar Airways.
WHY FINNAIR FACE ASIAN ROUTE CHALLENGES
Asia capacity has a ceiling for Finnair today because routes to destinations in Japan and South Korea are, for example, up to 40% longer, Manner explains, with the carrier among those most severely affected by the lack of access to Russian airspace. Aside from the impact on desirability from a passenger perspective, much longer routings have a number of effects on the capacity Finnair is able to offer.
On top of higher fuel costs at a time when fuel prices have been historically elevated, Finnair has lost "some of the efficiencies in terms of crew utilisation" with the longer flights, he says, while it also faces the impact on aircraft utilisation of shifting from a 24-hour rotation between Helsinki and Asia to a 36-hour one.
"So, for any given route, we need one-and-a-half aircraft now, when we needed one aircraft previously," Manner explains.
These "three buckets of additional costs" mean that while Finnair is avoiding the "notable cost item" that were Russian overflight fees, it still covets a return to its pre-Ukraine war routings. Largely for geographical reasons, Finnair is therefore not in the same position as Air France-KLM, whose chief executive Ben Smith recently suggested was seeing little financial impact from the longer routings on Asian services, given it was not having to pay "astronomical" Russian overflight fees.
But with its "rebalanced" network in place, Finnair is making progress with its revised strategy, Manner says, while cautioning "there is still a long way to go".
Key to Finnair's future, Manner states, is technology and investments in areas such as distribution and ChatGPT.
"If you ever wanted to write the story of an airline that is doing things differently, you should come and talk to us," he says.
Amid that effort, a much-discussed narrowbody order is only likely to return to the agenda once Finnair is back at pre-pandemic levels of profitability, "meaning 5% of EBIT", Manner states, adding that he expects that milestone to be reached "by mid-2024".
On that topic, he expresses some relief that Finnair did not take the plunge on a narrowbody order earlier, saying that the current high maintenance costs associated with the latest-generations single-aisles "have been offsetting the fuel savings" achieved with those aircraft, amid supply-chain and staffing challenges at MRO providers.
Next-generation engine technology has been proving particularly troublesome when it comes to MRO challenges, industry stakeholders say.