Finnair has reiterated its guidance for a stronger-than-expected full-year performance, saying its positive second-quarter results reflect its successful adjustment to the closure of Russian airspace.
The Oneworld carrier swung to a comparable operating profit of €66 million ($73 million) for the April-June period, from a loss of €84 million a year earlier. Revenue of €749 million was up 36% year on year but remains short of the 2019 figure of €793 million.
Still, that quarterly revenue was achieved on capacity 25% down on 2019 levels, reflecting "exceptionally high" passenger yields during the most recent period, Finnair says, as result of strong demand and constrained capacity in the wider industry.
It reported a second-quarter net profit of €139 million, having seen a loss of €280 million in the year-ago period.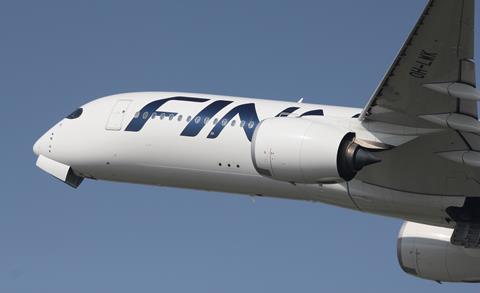 "The strong quarter was driven by continued strong travel demand and successful implementation of Finnair's strategy," says Finnair chief executive Topi Manner.
"Looking back, I'm proud of how the entire Finnair team has brought the company out of the pandemic and adapted to Russian airspace closure by defining a new strategy and implementing it successfully."
That strategy has seen Finnair rebalance its network away from a pre-Covid priority of linking Asia with Europe, given the airline's routings were particularly affected by the closure of Russian airspace to European carriers. It continues to serve Asia – and notes some uplift from the reopening of China at the turn of the year – but capacity to Asian destinations was still only at around 53% of 2019 levels in the second quarter.
Serving Asian markets now brings higher costs due to the longer routings, prompting Finnair to increase its focus on markets such as the North Atlantic and the Middle East. In the latter region, it notes positive results from its recent tie-up with Oneworld partner Qatar Airways.
The carrier is also wet-leasing out some of its capacity as part of its revised strategy, notably concluding a long-term deal with Qantas for A330s during the quarter.
In that respect, Finnair says it is benefiting from the global "capacity bottlenecks" that are creating demand for wet-leased aircraft. At the same time, however, Finnair notes some negative impact on its schedules from spare-parts shortages, which are prolonging aircraft maintenance groundings.
The carrier now estimates that it will achieve a full-year operating result in the range of €150-200 million. In June it had already flagged an improved outlook, with demand proving stronger than expected this year and fuel costs trending below expectations.
It expects its full-year capacity to average at 80-85% of 2019 levels.
Finnair ended the second quarter with 55 aircraft in its own fleet: 30 narrowbodies and 25 twin-aisle jets.