Textron Aviation has rolled out the first production example Cessna SkyCourier twin-engined utility turboprop, as it eyes delivery to launch customer FedEx Express later this year.
To date, the fleet of three SkyCourier test aircraft has accumulated more than 2,100 flight hours since the type's maiden sortie in May 2020.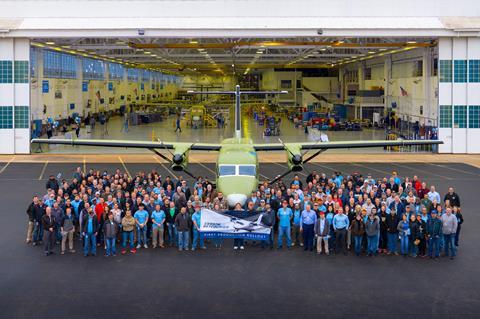 Certification is anticipated in the first half of this year, says Textron Aviation.
FedEx has ordered 50 examples of the SkyCourier freighter variant, with another 50 units covered by options. The aircraft can hold three LD3 containers and can carry 2,720kg (6,000lb) of payload.
An image released by Textron Aviation shows another five SkyCouriers in various stages of final assembly.
Manufactured at Textron Aviation's site in Wichita, Kansas, the clean-sheet design incorporates several state-of-the-art assembly and fabrication processes to simplify its construction.
"Today is a rewarding day for our employees who have worked to design and build what I believe will become a legendary airplane for our company," says Ron Draper, chief executive of Textron Aviation.
"The SkyCourier brings an impressive combination of cabin flexibility, payload capability, performance and low operating costs to the twin-engine utility segment."
As well as the freighter version, the SkyCourier will be available in a 19-seat passenger configuration. Both variants are powered by Pratt & Whitney Canada PT6A-65SC engines.