Flair Airlines has taken lessor Airborne Capital to court over what it alleges were "unlawful and immeasurably destructive actions" relating to the repossession of four aircraft, as the airline stresses that it is "here to stay" despite the operational snags.
In a statement issued 15 March, the Canadian low-cost operator says it has filed a lawsuit with the Ontario Supreme Court of Justice. Details of the lawsuit were not disclosed, though Canadian media reports, citing court documents, state that the airline was suing Airborne for C$50 million ($36.3 million).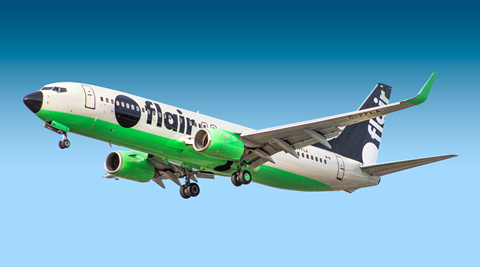 At the heart of the dispute are four Boeing 737s which were seized by Airborne earlier in the week, leading to the cancellation of several flights at the start of the busy March travel period.
Airborne says Flair had fallen behind on lease payments, and that the seizures only happened after a five-month period of missed payments.
Media reports state that the aircraft seizures took place 03:00 local time on 11 March, with Flair alleging that Airborne "sent agents to seize the aircraft in the middle of the night" without prior notice. Flair had also claimed that it had agreed to pay its overdue fees, and that the lessor was in collusion with its rivals to "set Flair up".
The airline in its latest media statement says: "Airborne Capital's unlawful and immeasurably destructive actions were taken on the first weekend of many of our customers' school breaks. This is profiteering on the backs of Canadians and was entirely unexpected and unwarranted."
"Since our inception, we have faced significant resistance in challenging the status quo of an industry weighted by monopolistic practice. We accept that resistance will continue, as will our response," the airline adds.
Flair has since "implemented every recovery measure possible" – including bringing in four additional aircraft to service – to minimise travel disruption.
"We want to firmly reiterate that Flair Airlines will continue to fly its schedule," the airline adds.
Airborne, with offices in Dublin and New York, had leased six 737s (including one 737-800 and five 737 Max 8s) to Flair, according to Cirium fleets data.
Flair primarily operates flights from Canada to leisure destinations in the USA and Mexico, and has a fleet of 18 in-service 737s.
The carrier began scheduled flights in 2016 for a brand called NewLeaf Travel Company, then in 2017 acquired NewLeaf's assets and began operating under the name Flair.