UK regional carrier Flybe has taken a step nearer to restarting operations, appointing a chief executive who was most recently in charge of an Alaskan airline group that entered bankruptcy protection in 2020.
In addition, as recruitment activity at the airline ramps up – flightcrew are now being sought – images of an initial aircraft in Flybe livery have emerged.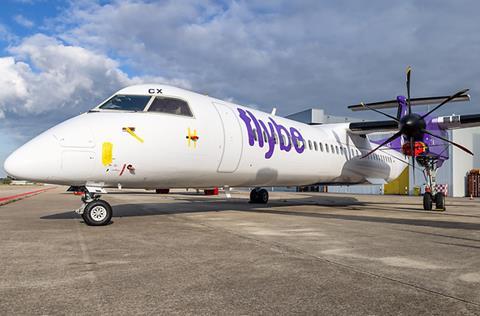 Meanwhile, the administrators of the airline's defunct predecessor have warned that claims from non-preferential creditors could top £650 million ($895 million) with little chance of them seeing a return. However, additional money could still be owed by the new business on the back of airport slots that were transferred when Flybe's assets were sold for just £1 as part of the insolvency process.
Flybe in its original guise went bust in March 2020, with its remaining business and assets acquired in April this year by Thyme Opco, a company affiliated with Cyrus Capital, an investment firm which held a stake in the carrier prior to its collapse.
Announcing the purchase of the assets, Thyme Opco, which subsequently changed its name to Flybe, said that subject to the relaxation of travel restrictions it planned to "launch a new and much improved Flybe sometime this summer [2021] on many of our former routes".
While Covid-19 travel restrictions put paid to an early relaunch, Flybe has slowly been edging closer to an unlikely comeback.
As part of that effort, on 26 October it announced that Dave Pflieger had been appointed as chief executive.
Pflieger has been a senior executive at seven different carriers, including Delta Air Lines, Fiji Airways, Silver Airways and Virgin America, says Flybe. Most recently, he held the post of chief executive at Ravn Air Group, an Alaskan carrier that entered US Chapter 11 bankruptcy protection in April 2020 with debts of $90 million. Its assets were subsequently sold to new owners.
"We are extremely fortunate to have someone with Dave's skills and track record of success leading our new airline as it gets ready to start operations and serve key regions in the UK and EU," says Kevin Hatton, chairman of Flybe.
According to Pflieger's LinkedIn profile, since October 2020 he has been president of Odyssey Advisors, a US "transformation and turnaround company that helps start-up and mature organisations successfully launch or emerge from difficult financial situations".
Recruitment elsewhere in the business is also continuing. The carrier's LinkedIn page currently shows it seeking aircrew, including captains and cabin staff.
Captains should have 2,500 flight hours, including 1,000h as pilot in command, according to the requirements for the role, and the individual should hold, or have held, a type rating for the De Havilland Canada Dash 8-400 twin-turboprop.
The previous Flybe – since renamed FBE Realisations – operated a substantial fleet of Dash 8-400s, many of which have yet to find new homes amidst the wider aviation downturn.
While the UK Civil Aviation Authority (CAA) has yet to list any aircraft registered to the successor airline, images of an initial Dash 8-400 in Flybe livery have appeared on aircraft spotter sites.
Registered as G-JECX, CAA data shows the turboprop as owned by NAC Aviation 19, an Irish entity run by lessor Nordic Aviation Capital.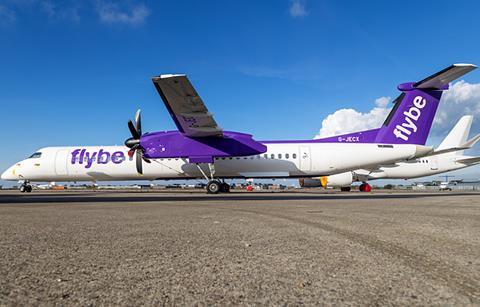 Negotiations with fellow lessor Aergo Capital, which acquired a portfolio of 20 ex-Flybe Dash 8s in April 2021, had previously taken place.
Flybe has yet to detail its operating sites, but its recruitment adverts for flight support and continuous improvement managers reference a West Midlands location, suggesting Birmingham airport as a probable base.
In addition, data from slot allocation body Airport Coordination (ACL) for the winter 2021 season shows Flybe as having substantial numbers of slots at both Birmingham and Manchester airports. Both these totals increased over previous years, the data shows.
These transferred across to the new company as part of the asset sale. In fact, the administrators of FBE Realisations are hopeful that the slots may still yield additional payments from Flybe.
In its latest progress report, published on 7 October, insolvency firm Ernst & Young says that the slots at various airports in Europe and the UK "were subject to the transaction [with Thyme Opco]".
"No immediate consideration was payable by the purchaser upon completion of the transaction in respect of these assets; however, there remains a contingent recovery by way of deferred consideration," it says.
While the precise details of what would trigger an additional payment remain confidential, the administrators say they are "linked to the future performance of the new Flybe business".
Ernst & Young is continuing its efforts to sell the few remaining assets of the business, including a pool of 10 Pratt & Whitney Canada PW150 engines. Of these, two have been sold, while a further five are covered by letters of intent with potential purchasers.
Trade debtor Virgin Atlantic Airways – which was part of the Connect Airways consortium that acquired Flybe in 2019 – has also so far paid £3.2 million of the £7.3 million it owes.
But despite these recoveries, Ernst & Young says there will be a substantial shortfall given the size of FBE Realisations' debts. The administrators say total claims from non-preferential unsecured creditors will be between £550 million to £650 million, adding: "It is possible this figure will be materially higher once all claims have been received and an adjudication process is complete."
Nordic Aviation Capital is owed £90 million and German financial firm Norddeutsche Landesbank is owed £82 million, the report says.
Due to the scale of the debts and the number of creditors, estimated to be least 900,000, the administrators have applied for an order allowing them not to distribute any money to this group as it would not be cost effective to do so.
Documents filed to Companies House on 4 October show that Flybe's 20 million shares are held by Thyme Parentco. Shareholders of that business include: DLP Holdings – a Luxembourg-based fund owned by Cyrus Capital; Thyme Investco; Flybe directors Kevin Hatton and Robert Knuckey; Lucien Farrell – a director of Cyrus Capital; Niradi Patel – a former director of Connect Airways; Johnathan Peachey – a director of Flybe and advisor to Cyrus Capital; and Georgia Quenby.
Thyme Investco is owned by Farrell, Patel, Peachey and Quenby, alongside the Flybe Employee Benefit Trust.