Middle Eastern carrier Flydubai has unveiled a new premium business suite for single-aisle aircraft, which will include a sliding privacy door.
The airline showed off the development at the Arabian Travel Market and states that it will be introduced on its fleet from November this year.
Flydubai operates some 75 aircraft, over half of which are Boeing 737 Max jets, with the rest comprising 737-800s.
Ten suites, which offer all business-class passengers direct aisle access, will be included on the airline's latest aircraft deliveries.
Six initial aircraft will be configured with the new interior by the first quarter of 2024, and deployed on the airline's longer-duration services.
Flydubai has co-operated with Safran Seats and design firm JPA Design to come up with the new product.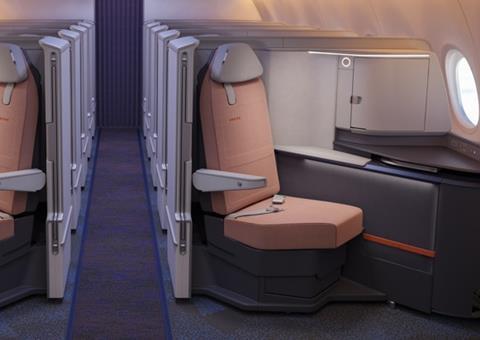 The airline had originally emerged in 2009 as a budget carrier for the United Arab Emirates, but brought in a business-class cabin four years after launching services, and it has continued to move upmarket with an increasing shift towards accommodating premium customers.
This has included introducing lie-flat and recliner business-class seats.
"Flydubai is committed to exceeding expectations," says chief executive Ghaith Al Ghaith.
"We are proud to unveil a new premium product which rivals the business-class experience offered by many airlines on widebody aircraft."
Vice-president of in-flight product Daniel Kerrison says the sliding door and shell height offer a "level of privacy never before seen on Boeing 737s".