Could a regional turboprop operator — once said to "never, ever" be able to turn a profit — become Malaysia's next national carrier?
That's the question confronting senior management at Malaysia Airlines, with the carrier's fate again thrust into the spotlight after acknowledging the deep impact the coronavirus outbreak has wrought on its fortunes.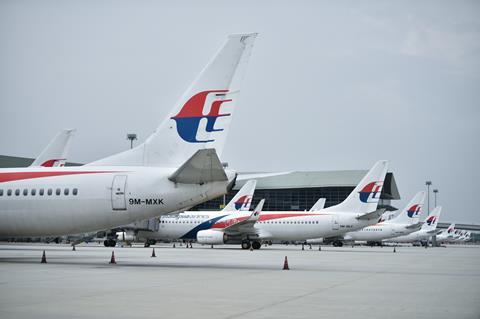 Malaysia Airlines had been eyeing a tentative recovery after years of struggles at the beginning of the year, but 2020's collapse in travel demand owing to the pandemic has dealt it a body blow.
In announcing an "urgent restructuring exercise", the carrier states that it will revise its long-term business plan rolled out in 2019.
The "drastic steps" will "ensure the [Malaysia Airlines Group's] relevance and survival" amid the "deep impact of the prolonged Covid-19 crisis", it says.
"This [revised] plan, which requires a comprehensive restructuring of the MAG business and capital structure, is highly dependent on the individual contributions of all relevant stakeholders in supporting the group to emerge out of this crisis as a well-capitalised and financially healthy airline group," adds the Oneworld carrier.
Even while this is happening, it has already begun to hit a roadblock with the carrier's lessors.
According to a Reuters report on 10 October, lessors claiming to represent 70% of the aircraft and engines leased to the airline group have called the restructuring plan "inappropriate and fatally flawed" and pledged to challenge it.
Adding to that, murmurs of an alternative plan — mirroring its 2015 restructuring — started making the rounds.
Malaysia Airlines chief Izham Ismail, in an interview with local business and financial publication The Edge, said that the group will have "no choice but to shut down" if lessors decide against backing the restructuring plan.
Izham also floated an alternative scenario if Malaysia Airlines as we know it shuts down. Known as the 'Plan B' scenario, it will see regional subsidiary Firefly take on narrowbody aircraft, followed by widebodies later on, from the market.
FIREFLY'S NEW WINGS
"Plan B" has also gained traction with Malaysia sovereign wealth fund Khazanah, the carrier's owner.
Khazanah managing director Shahril Ridza Ridzuan was quoted in local media as saying: "Among the alternative options that can be considered is [that] Khazanah is willing to end financing for Malaysia Airlines and instead will fund Firefly to expand its operations for the purpose of meeting the connectivity needed by the country."
In what could only be a strange turn of events, days after Khazanah's comments news emerged that Firefly was due to commence jet aircraft operations from next year.
Malaysia Airlines, in announcing the move, says Firefly will add up to 10 narrowbody aircraft to its fleet "in phases" from the first quarter of next year.
The aircraft, which could include Boeing 737s from Malaysia Airlines, will be based at Firefly's second hub in Penang, allowing its parent to focus on "serving the premium market".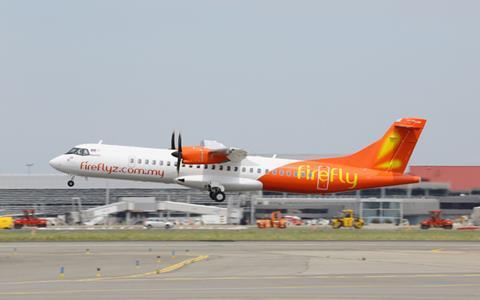 Malaysia Airlines has been coy about whether or not this is the start of a shift toward Izham's "Plan B". It told FlightGlobal that the plan to induct jet aircraft into Firefly was part of its revised long-term business plan, "which focuses on strengthening the revenue streams of each subsidiary".
It added: "Complementing [Malaysia Airlines'] jet services will propel Firefly to achieve that target while diversifying its base."
Firefly was hitherto a regional turboprop operator based in Subang international airport, near Kuala Lumpur. The carrier began operations in 2007, with Fokker 50 turboprops, before it acquired ATR 72-500s a year later.
At its launch, Firefly said its aim was to "capture a new market segment by serving market destinations that are not viable" for Malaysia Airlines' mainline operations.
In 2011 it briefly operated jet aircraft, which allowed it to fly farther afield to East Malaysia and to Indonesia, among other points. However, that stint was short-lived, when the aircraft returned to Malaysia Airlines.
It also found its business model undercut by arch-rival Malindo Air, which began basing ATRs at Subang as well.
In an interview with FlightGlobal in 2017, former Malaysia Airlines chief Peter Bellew noted that the carrier had been "overwhelmed" at its Subang base. Firefly was also reportedly mired in debt and was in a "critical situation".
Since then, Firefly has cruised along under the radar, at least until its name resurfaced in recent weeks as the next potential flag carrier.
WHAT PRICE, PLAN B?
If the Malaysia Airlines we know is folded and Firefly takes on the national carrier role, it will be the second such revamp in a decade - and create a headache for the airline's creditors.
In 2014, after Malaysia Airlines suffered the double whammy of two fatal accidents involving its Boeing 777-200ERs, Khazanah bought back a 30.63% stake in the carrier which was held by private shareholders, thus becoming its sole shareholder.
It delisted the company and later restructured it under a new entity, Malaysia Airlines Berhad (MAB), which received its AOC in August 2015.
Commenting on the situation at Malaysia Airlines, aviation analyst and founder of Endau Analytics Shukor Yusof says the carrier's current state of affairs stems from many causes including poor management, fiscal recklessness, as well as intense competition.
Shukor notes: "MAB is beyond repair. Too much money and time have been wasted on the group for too long. Whatever plan [the carrier] is coming up with now seeks only to prolong the agony and is self-serving."
He adds: "Accept defeat and move on [to another life]. Unless MAB and its shareholder are willing to allow independent professionals to help run the carrier, MAB is finished."
Independent analyst Brendan Sobie contends that shifting the business to Firefly under the 'Plan B' arrangement is less than ideal. "['Plan B'] is feasible as MAB's own history shows. But it is not the preferred option. The preferred option is to restructure under MAB. All stakeholders (such as employees and suppliers) would clearly prefer this option."
Despite the Firefly narrowbody move, it appears that Malaysia Airlines is not executing "Plan B" — at least not yet. A Reuters report, citing Izham in an internal staff memo, states that the talks with creditors and lessors are still ongoing.
"The negotiations are still ongoing and taking longer than the planned timeline, but we are gaining encouraging traction from the lessors and creditors thus far," Izham was quoted as saying. Malaysia Airlines confirmed these plans in a statement to FlightGlobal.
Things are far from clear cut, however. Speaking anonymously, lessors recently told Cirium that they are far from happy with the airline's proposals, which would see some of them forced to take large haircuts. They also question the airline's proposal to restructure under Part 26A of the UK's Companies Act 2006, which effectively allows it to divide the creditor base and eliminate the influence of those who oppose its restructuring offer.
Still, the current restructuring is but a means to an end, and the road ahead is still very long, say industry watchers.
Says Sobie: "The current restructuring … is just a start. Once this is settled a new strategy and business plan would need to be implemented, along with a recapitalisation. A lot of work needs to be done over the next several years to achieve a successful turnaround."
But does Malaysia Airlines have time on its side? Sobie notes that the speed of the market's recovery will go some way in aiding restructuring efforts.
"Many of the same challenges that Malaysia Airlines has not been able to fully address over the years with multiple prior restructurings still exist," he says. "This crisis presents an opportunity to reset and finally right the ship but also increases the severity of many of the longstanding challenges and issues."