US operator Frontier Airlines has added a $250 million reverse termination fee to its agreed offer for ultra-low-cost carrier Spirit Airlines if regulators block the deal.
It marks the latest move in the battle for Spirit, whose shareholders will vote on the Frontier offer on 10 June amid a higher competing bid from JetBlue Airways. Spirit's board of directors rejected the latter's offer, saying regulators are less likely to green light a Spirit-JetBlue combination due to competition concerns.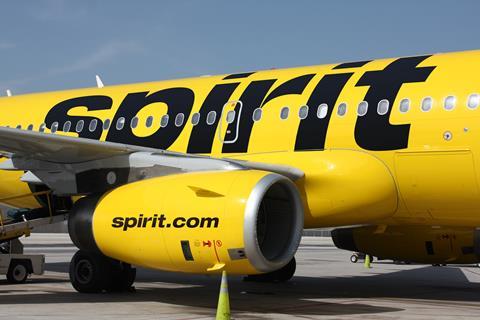 JetBlue in May added a $200 million "break up fee", paid in the event the acquisition is not completed "for anti-trust reasons". Frontier has now added a termination fee of its own in the "unlikely event combination is not consummated for antitrust reasons".
Frontier chairman and managing partner of the airline's majority shareholder Indigo Partners, Bill Franke, says; "We continue to believe in the strategic rationale of a combined Spirit and Frontier, which brings together two complementary businesses to create America's most competitive ultra-low fare airline.
"Given our conviction that regulators will find this combination to be pro-competitive, we have agreed to institute a reverse termination fee. We look forward to bringing these two companies together and delivering on the benefits for all stakeholders."
Spirit chief executive Ted Christie says: "Since announcing our transaction with Frontier, we have had extensive constructive conversations with our stockholders, who have expressed support for the strategic rationale of our combination but a desire for additional stockholder protections.
"After discussing this feedback with the Frontier Board and management team, we have agreed to amend the merger agreement. We look forward to closing the transaction and bringing more ultra-low fares to more people in more places."
Spirit shareholders will vote on the Frontier offer on 10 June. At the end of May JetBlue cited a report from investment research company Institutional Shareholder Services (ISS) advises Spirit's shareholders to vote against a deal with Frontier, saying while a Spirit-Frontier deal is more likely to pass regulatory scrutiny, the premium offered by JetBlue gives Spirit shareholders more options.
But speaking on 31 May Christie said: ""We disagree with the ISS's recommendation against the Frontier-Spirit merger, which we continue to believe is in the best interest of Spirit stockholders."