Garuda Indonesia is targeting to complete its restructuring within the year but did not commit to a timeline for the process or further steps to pay off its debts.
In a 25 June filing to the Indonesia stock exchange (IDX), the flag carrier addressed questions from the exchange on the details and timeline of its restructuring, saying that it "targets [that the] restructuring process can be completed in 2021".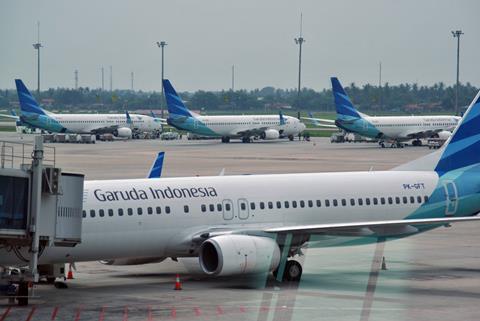 Garuda declined to offer further details on the timeline for the process until it has finalised the restructuring plan.
It also adds that it "has not yet decided the path [it will take] to resolve its debt".
Garuda has debt amounting to Rp70 trillion ($4.9 billion), which is forecast to continue growing by Rp1 trillion each month amid the pandemic, a House of Representatives member told Indonesia's parliament on 3 June.
Garuda says that controlling shareholder, the Ministry of State Owned Enterprises, has "[committed its] full support for [Garuda's] debt restructuring process through [the] establishment of the company's restructuring acceleration team". The team was formed to handle the airline's negotiations with lessors.
"As for now, there has been no further agreement with the respective banking creditors, lessors and other creditors," it adds.
Garuda also confirmed that it had returned a pair of Boeing 737-800s, but will continue to pay outstanding or past-due payments on the two aircraft.
The IDX also pressed it for updates on recent events that shed light on its dire financial situation.
The company, which had defaulted on a periodic payment under its $500 million sukuk after a two-week grace period lapsed on 17 June, did not commit to any timeline to complete that payment.
As for debt obligations, the company says that last December it secured several extensions on loans with state-owned banks.
Bank Mandiri approved a loan extension until December 2021 and suspended loan clean-up obligations, while Bank Rakyat Indonesia and Bank Negara Indonesia agreed to convert some short-term loans into a long-term loan with a maturity in 2026. Non-state-owned banks, the company says, have also agreed to grant loan extensions.
Garuda says it expects to publish its results for the 2020 financial year by 30 June.
On 21 June, Indonesian lawmakers voiced opposition to the bankruptcy or liquidation of the flag carrier in a parliamentary hearing, with the airline's executives revealing further details on its downsizing of operations.
Garuda's deputy chief executive Dony Oskaria disclosed that the airline was flying only 41 aircraft "due to current market demand" and intends to return 101 aircraft.
He blames Garuda's current losses on payments for aircraft leases, saying that "our losses are actually purely because of earlier leased aircraft that are underutilised assets".