Garuda Indonesia will defer payment of a periodic distribution under its $500 million sukuk trust certificate as it considers "strategic alternatives" to address ongoing challenges amid the pandemic.
The payment is due 3 June, the company said in a same-day filing to the Singapore Exchange. Garuda is allowed a 14-day grace period and will provide an update before its expiration.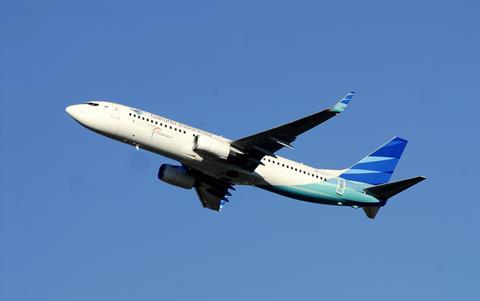 Garuda says it "has taken proactive financial and operational measures" to address "the unprecedented challenges from the effects of the Covid-19 pandemic".
"Despite its efforts, the ongoing decline in air traffic resulting from the pandemic continues to pressure the company's operations and liquidity," it states.
Garuda states that it will retain a team of advisors comprising Mandiri Sekuritas, Cleary Gottlieb Steen and Hamilton LLP and Assegaf Hamzah and Partners.
The $500 million sukuk matures on 3 June 2023, after sukuk holders approved last June a three-year postponement of the original 3 June 2020 maturity date.
In a written statement to the parliament on 3 June, Indonesia's House of Representatives member Fauzi H Amro highlights that Garuda's debts reached Rp70 trillion ($4.9 billion) and are estimated to continue increasing by Rp1 trillion every month as the pandemic continues to affect passenger traffic.
"The government and shareholders must fight to save Garuda Indonesia by re-injecting fresh funds into Garuda Indonesia," he says.
He adds that Commission XI within the House, which oversees finance matters, will "fully support efforts to save Garuda without having to establish a new national airline company".
He also pushed for the company's current directors and commissioners to be replaced immediately, a forensic audit of Garuda's finances and an investigation into allegations of corruption.
Garuda is majority owned by the Indonesian government. In 2020, it received liquidity support from the government in the form of a Rp1 trillion export working capital loan from the Indonesia Eximbank, under the National Interest Account programme, as well as Rp8.5 trillion through issuing mandatory convertible bonds.
In its latest update, Garuda says it also restructured select outstanding payables and arranged amendments with several domestic banks.
Operationally, it has rationalised flight routes, renegotiated contracts with aircraft lessors, and most recently confirmed that it is in the early stages of offering voluntary early retirement to eligible staff to further preserve liquidity.
As a near-term measure, Garuda also plans to boost operating income from cargo operations from the current 10-15% to 40% to sustain the company through the pandemic, it said in a 27 May filing to the Indonesia Stock Exchange. It intends to ramp up operations by using passenger aircraft for cargo flights and optimising cargo charter services.
Garuda Indonesia's president and chief executive Irfan Setiaputra states in the 3 June filing: "Our goal is to ensure the company emerges from the pandemic as a strong, well-capitalised airline that provides world-class services to the citizens of Indonesia and the traveling public. We believe the team we have retained is best positioned to help the company accomplish that goal."