Garuda Indonesia has been queried by the Indonesia Stock Exchange (IDX) on its outstanding obligations to creditors.
In July, Jakarta-based cargo airline My Indo Airlines made a Penundaan Kewajiban Pembayaran Utang (PKPU) application against Garuda, in relation to unpaid debts.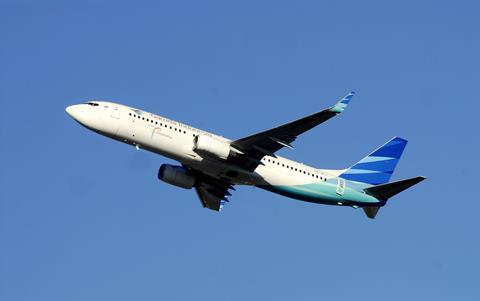 Under Indonesian bankruptcy law, PKPU, which may be initiated by either debtor or creditor, is a court-enforced suspension of debt payment obligations to allow the debtor and creditor to reach a settlement and avoid bankruptcy and liquidation.
In a 1 September filing to IDX, Garuda revealed that a second creditor, Jakarta-based IT company Mitra Buana Koorporindo, has joined the PKPU application.
"It is estimated that there will be a decision in September 2021", Garuda says.
It adds that its ongoing restructuring "is aligned and pays attention" to the PKPU submission by its creditors "in order to get the best solution for the company".
In June, Garuda defaulted on a periodic payment of the $500 million sukuk trust certificate.
The company says in the 1 September statement that it has "communicated with key sukuk holders" who hold approximately 20% of the total value of the sukuk, requesting for their support for the implementation of "total restructuring".
Should the results of Garuda's restructuring require changes to the provisions of the sukuk, including but not limited to the tenor, Garuda will convene a general meeting of sukuk holders to obtain approval.
Garuda was also queried about a cross-default clause in the sukuk that could entail a default on other obligations.
Garuda states: "To obtain a settlement, [Garuda expects to] take a long time, considering the number of creditors and vendors of the company [are] around 800 creditors, where the length [of] this process can affect the company's operational sustainability."
Furthermore, Garuda listed seven local and international banks that it negotiated and signed loan deferrals with, in June and August, to defer various principal and interest repayments to between November and June 2022.
It also signed agreements with state-owned entities Pertamina, Angkasa Pura I and II in December 2020, and with AirNav Indonesia in May, to defer payments to 2023.
In June, Garuda said that it aims to complete its restructuring within this year, although it did not commit to a timeline for the process or further steps to pay off debts.