Indonesian carrier Garuda swung to operating loss of $110 million in the first six months of 2023, despite a surge in revenue.
The operating loss for the 6 months to 30 June contrasts sharply with its operating profit of $4 billion a year earlier, which stemmed from one-off items related to its debt restructuring exercise.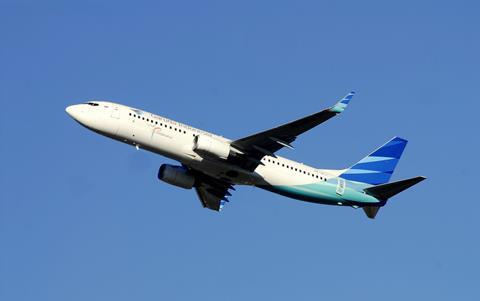 The carrier also swung to a net loss of $76 million from a net profit of $3.8 billion a year earlier, according to its half-year earnings report.
Garuda did not provide an analysis of its performance, but carrier chief executive Irfan Setiapura recently told FlightGlobal that the carrier is set on returning to profitability. Key focus areas include simplifying the airline's fleet, improving the passenger experience, partnerships, and working with creditors.
Cash and cash equivalents as of 30 June stood at $428 million, an improvement over $131 million a year earlier.
Garuda's interim results statement also offered some details about the carrier's longer term fleet plans.
The carrier has orders for nine A330-900s with deliveries to run from 2026-31. Garuda has conversion rights to switch these to A350s or A350Fs.
Four A330-800s are set for delivery from 2027-30, but Garuda can cancel these for $1 million per aircraft.
In a statement issued after its shareholders meeting in May, the Jakarta-based airline says it expects to operate a fleet of 63 aircraft by end-2023, a downward revision against the more than 70 aircraft it forecast at the start of the year.