Garuda will allocate $30 million to carry out the second phase of its early retirement scheme this year which covers 1,100 staff, in a bid to reduce costs amid its impending business restructuring.
The scheme will be carried out in stages and will be drawn from operational funds each month, Garuda states in a corporate presentation dated 19 August filed to the Indonesia stock exchange.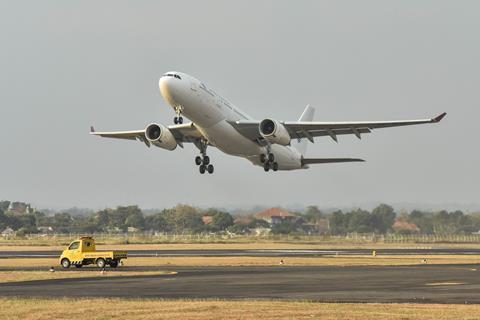 In the presentation, Garuda also revealed that it has developed a plan to reduce liquidity pressure and improve its financial position to ensure business continuity.
"The implementation and effectiveness of the management's plans [to improve] the group's financial condition will depend on the stakeholders [such as] creditors, lessors, shareholders and regulators agreeing to the negotiations," it says.
The plan will need to account for Garuda's existing debts, which as of June, amounted to at least Rp70 trillion ($4.8 billion), and was forecast to increase by Rp1 trillion per month amid the pandemic.
Garuda says it has taken steps to "harmonise supply and demand aspects" amid the pandemic, including implementing a hiring freeze, accelerating contract settlement for contract staff, offering early retirement, laying off pilots and salary reductions of up to 50% until the condition of the company improves.
At a 13 August annual general meeting of shareholders, the company received approval to lay off two of its eight-member board of directors. Deputy president and chief executive Dony Oskaria and director of commercial and cargo M Rizal Pahlevi will be "dismissed with honour".
The company will also appoint Ade R Susardi to an enlarged role as director of service and commerce, which merges its services, business development and IT portfolio with commerce and cargo.