Global airline passenger traffic was at 96.1% of 2019 levels in May this year, as the industry neared parity with pre-Covid levels of demand after three years of deficit.
The latest data from airline industry association IATA continues to reflect the rapid recovery trend seen this year, with traffic having been at 76.9% of 2019 levels as 2022 ended.
Measured in revenue passenger kilometres (RPKs), traffic in global domestic markets was 5.3% above 2019 levels in May – outpacing pre-pandemic data for the second month in a row – with international traffic at 90.8% of pre-Covid levels. The latter metric has risen sharply since the turn of the year, thanks to the reopening of the key China market.
Still, Asia-Pacific carriers continue to lag pre-crisis RPKs the most, at 15% down in May (albeit that number had been -43.5% as recently as December 2022).
In contrast, Middle Eastern carriers saw their RPKs surge to 16.2% above 2019 levels in May, IATA data shows. That is, however, partly explained by runway closures at Dubai International airport in May 2019, which restricted flights and therefore artificially inflate the 2023 comparison. Middle Eastern carrier RPKs had been 12.1% down versus pre-Covid levels in April.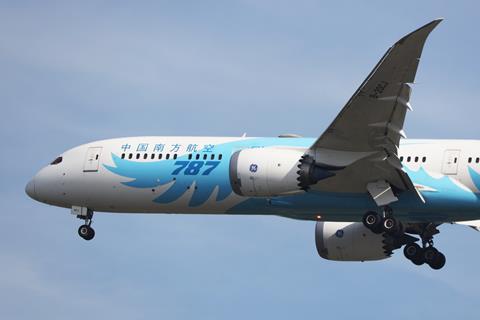 North American carriers also saw traffic above pre-crisis levels, at 2.1% up in May, in a more reliable reflection of recent recovery trends. Airlines in other regions continued to near 2019 levels, with European RPKs down by 1.9%, African carrier traffic by 0.9% and Latin American RPKs by just 0.4%, according to IATA.
In capacity terms, Latin American, Middle Eastern and North American carriers all reported available seat kilometres (ASKs) above May 2019 levels, at 2.2%, 6.3% and 1.8% higher, respectively.
ASKs among Asia-Pacific carriers were down 11.7% against May 2019, IATA data shows, while those from European airlines were 3.1% lower and those from African carriers were down 3.9%.
Overall global capacity was at 96.1% of 2019 levels, matching the traffic figure.
The global load factor of 81.8% in May was on a par with pre-Covid levels – the first time that milestone has been achieved since the pandemic hit, IATA notes.
Meanwhile, the air cargo sector continues to see demand fall, IATA data shows, even as yields remain relatively strong against pre-Covid levels. Describing the market as "weak", the association says global demand, measured in cargo tonne kilometres, was down 5.2% year on year in May, on capacity some 14.5% higher.
The strong performance of air cargo throughout the Covid-19 crisis, spurred on by temporary factors such as Covid-related delays at ports and high shipping costs, continues to make year-on-year comparisons more relevant than in the passenger markets, where traffic and capacity in the 2020-2022 period were heavily impacted by travel restrictions.