Airline passenger traffic was just over two-thirds of 2019 levels last year, in a 12-month period marked by an initially strong recovery from the Covid-19 pandemic that then plateaued across the last few months of the year.
At 68.5% of 2019 levels, the revenue passenger kilometres (RPKs) flown globally in 2022 marked an improvement from 41.7% in 2021, IATA said as it released full-year data on 6 February. Global capacity was down 28.1% from 2019 but up 39.8% from 2021.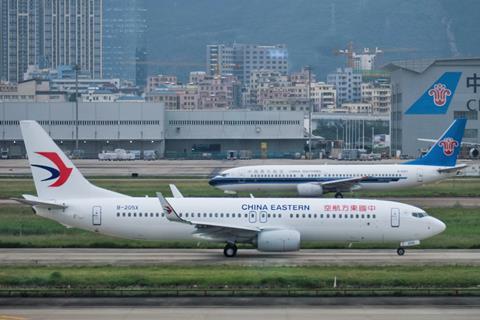 "The industry left 2022 in far stronger shape than it entered, as most governments lifted Covid-19 travel restrictions during the year and people took advantage of the restoration of their freedom to travel," says IATA director general Willie Walsh, adding: "This momentum is expected to continue in the New Year."
Indeed, the full-year improvement was driven by the strong return of international traffic globally, as it recovered to 62.2% of 2019 levels, having been at 24.5% in 2021. Domestic traffic – which had largely held up better than international travel during the pandemic – was at 79.6% of 2019 levels last year, having been at 72.8% in 2021.
IATA also released data for December 2022, showing global RPKs were at 76.9% of 2019 levels during that month, having increased by 39.7% year on year. The December performance reflects a minor uptick from the flattening of the monthly recovery trend that had endured since July 2022. Global traffic had started the year at around 50% of pre-Covid levels, then improved rapidly through to mid-year, before hovering at around 73-75% of 2019 levels through to November.
Data from early 2023 will show whether the opening up of the huge Chinese market to international travel – and the country's dropping of its zero-Covid policies – will bring a renewed momentum to the traffic recovery. At the same time, factors such as the supply-side challenges affecting aircraft maintenance and deliveries, and staffing levels at airlines and airports, have the potential to limit the recovery this year.
Splitting the data by region shows how heavily the slower reopening of borders in the huge Asia-Pacific market – and challenges in China's domestic market – weighed on global figures in 2022. Notably, at 44.4% of 2019 levels, Asia-Pacific carriers were the only ones to record traffic below the global figure of 68.5%.
Within the region's total figure, international RPKs were at 32.8% of 2019 levels and domestic traffic was at 59.7%. In the latter category, China's was the only large domestic market globally to see a year-on-year fall in traffic in 2022, as its RPKs dropped 39.8% from 2021 – and 54.4% from 2019.
In stark contrast, North American carriers were within touching distance of 2019 traffic in 2022 across international and domestic markets, hitting 88.7% of pre-Covid RPKs, closely followed by Latin American airlines at 85.8%. Elsewhere, European operators were at 77.8% of 2019 traffic for the full year, while Middle Eastern carriers were at 74.1% and African airlines at 68.7%.
Data for December shows all markets were ahead of the full-year 2022 data as the year ended. Asia-Pacific carriers were at 56.5% of 2019 RPKs for the month, while North American airlines were at 91.8% and Latin American operators at 89.5%. Elsewhere, European carriers were at 86.5% of 2019 RPKs in December, Middle Eastern airlines at 84% and African operators at 87.8%.