Struggling Indian carrier Go First looks to have secured much-needed relief after an Indian tribunal reportedly granted its urgent request for bankruptcy protection.
The Indian carrier had on 2 May filed an application with India's National Company Law Tribunal (NCLT) for resolution under its insolvency bankruptcy code.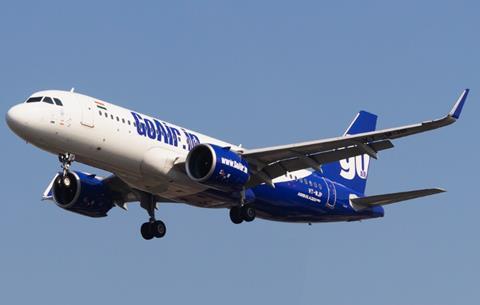 While the NCLT is still to formally publish the judgement relating to Go First's application for an interim moratorium from creditors, wide-ranging reports in the Indian media say the carrier's bid was successful following a 10 May hearing. Abhilash Lal from Alvarez & Marsal has been appointed to lead the airline through the insolvency resolution process.
Lessors have in the last few days initiated a string of aircraft de-registration requests with India's aviation regulator covering Airbus narrowbodies leased to the carrier.
In its request to the court, Go First had argued "it will lose all its assets, if protection under the moratorium [of the Bankruptcy Insolvency Code] is not granted to the applicant on an immediate basis".
Go First, which grounded flights on 2 May, has also today extended its suspension of operations by a further week until 19 May.
The airline has a cited reliability issues relating to Pratt & Whitney PW1100G engines powering its Airbus A320neos for its challenges and in its court filing says 28 of its 54 aircraft are grounded because of the non-supply of engines by P&W.
For its part P&W, which says it is working on PW1100G durability improvements, has pointed out that Go First "has a lengthy history of missing its financial obligations" to the engine manufacturer.