New Delhi has approved grounded Go First's plan to resume services, but requires the carrier to meet several conditions.
Go First submitted an initial resumption plan on 28 June, and this was subsequently amended on 15 July, according the Directorate General of Civil Aviation (DGCA).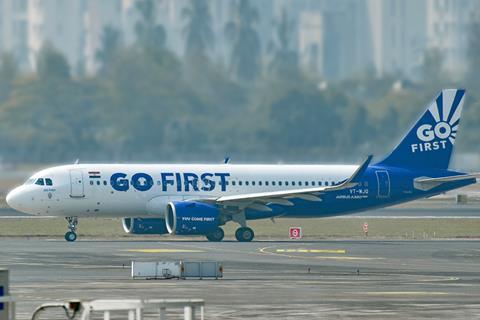 The DGCA granted its approval in a 21 July letter that was posted on social media. The letter lists several conditions that Go First must meet before it can resume services.
The low-cost carrier must secure "required interim funding," and ticket sales can only recommence once the DGCA has cleared the carrier's flight schedule.
In addition, Go First – which has been grounded since 2 May – needs to prove its airworthiness compliance, and no aircraft can be deployed for operations without a "satisfactory handing flight."
The letter also indicates that Go First's resumption is also contingent on legal petitions and applications concerning the carrier.
A report from news agency Reuters, quoting unnamed banking sources, suggests that creditor claims against Go First amount to Rs240 billion ($2.9 billion).
Of the Rs240 billion claimed, Rs180 billion is from lessors and Rs50 billion from lenders.
Earlier in July, administrators for Go First launched a call for expressions of interest in the airline.
The tender was published in several Indian newspapers today and sets a 9 August deadline for submissions of interest; administrators aim to publish a list of potential authorised bidders 10 days later.
The airline is owned by Indian conglomerate Wadia Group and had previously been looking at a listing on the Mumbai stock exchange.
Go First had revenues of INR41.8 billion ($506 million) for the year ended March 2022 and has around 4,200 employees.