Official indecision about travel pass apps will complicate the reopening of air traffic in Southeast Asia, according to a senior AirAsia executive.
Javed Malik, group chief operations officer at AirAsia, says he has spoken to over a dozen companies offering travel pass technology in the past year, but the apps have largely failed to obtain government buy-in.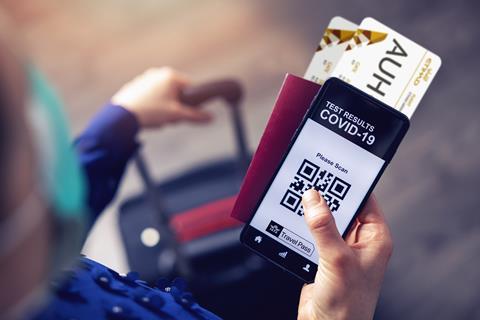 "You've got all these players, but none of them have any one government saying we're going to use them other than the IATA Travel Pass in aviation," he says. "But then you've got hospitality, you've got conference events, you've got sports arenas, what do they use?"
Malik made the remarks during a panel discussion during the GHI Digital Reconnect Asia virtual conference. The focus of the panel was the restart of air travel in Southeast Asia and in the broader Asia-Pacific amid the coronavirus pandemic.
An array of travel restrictions means that the Asia-Pacific - and Southeast Asia in particular - have lagged the global recovery in air travel. Complicating things further for Southeast Asian carriers is their high reliance on international travel.
Malik adds that while governments in the region are working to vaccinate people and get travel moving again, no guidance has been offered on the travel pass applications that will be used.
"We need to have a policy that allows us to have the technology ready to do digital passports," he says. "And yet there are no companies chosen - or even indicated - as being the preferred two or three. So I'll probably end up integrating with about five to seven companies in order to cover our Asian network, to be sure that we can actually accept every guest that wants to fly with us."
Another panelist, independent aviation analyst Brendan Sobie, says that one important issue governments need to confront for a travel restart is the mutual recognition of vaccines in Southeast Asia's ASEAN bloc.
"You have to have the governments on board, you have to have the clinics on board, and you have to have a system in place to upload all the vaccine information and verify it, but you still have the issue that several countries are just not mutually recognizing the vaccines in other countries…all the vaccines used in ASEAN need to be recognised jointly by all the countries in ASEAN."
He points out that in some cases Southeast Asian countries have increased quarantines to 21 days even for vaccinated travellers. This contrasts to the approach in other regions of the world, where some borders are being opened to vaccinated travelers, with quarantines eliminated or reduced.
Richard Zheng, chief executive of ground equipment firm TLD Asia, agreed with Sobie's perspective that trust needs to be fostered between countries in areas such as health certificates and vaccine passports. Complicating things further, he adds, are Covid-19 testing regimes, whereby an arriving passenger may be clear of Covid-19, but then be diagnosed as positive days later.
The final panelist, Yacoob Piperdi, chief executive of SATS unit Gateway Services says that the passenger traffic recovery is bound to vary owing to countries' divergent vaccination and infection rates, and this dynamic will see to the growth of bilateral travel arrangements between countries. He foresees bilateral agreements as the trend for the rest of 2021, with a wider recovery in 2022.
Piperdi adds that its crucial for the aviation sector to retain skilled workers throughout the crisis, as they will be essential to the recovery. "When [passenger] volumes do come back, they will come back pretty quickly, and we must be able to support that growth."