Grounded Malaysian carrier MYAirline says that just six of its 10 Airbus A320 aircraft have been de-registered, denying local reports that all the jets have been returned to lessors.
It states that four aircraft are still registered with the carrier and are being managed by lessors with the support of the carrier's Contininuing Airworthiness Management Organisation.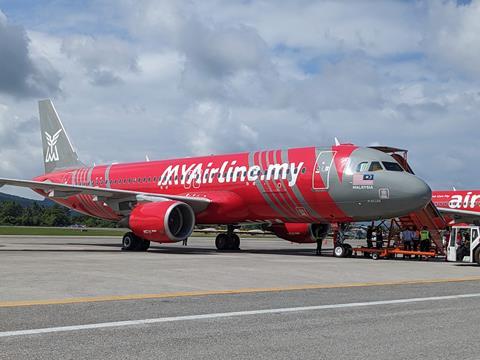 "It is important to note that these aircraft have been under lessor control since 13 October 2023, and this is not a recent development," says the carrier.
"Nevertheless, we are actively engaged in discussions with our lessors with the intention of retaining these aircraft once the recapitalisation process concludes."
The carrier says it is important to clarify the situation around its fleet, as allegedly inaccurate reports "have the potential to undermine the ongoing efforts of our current management team to revitalise the airline, particularly as we are currently engaged in advanced discussions with potential investors."
It also stresses that both its air service licence and air operator certificate are suspended – not revoked. Both documents are required to sell tickets and operate scheduled services in Malaysia.
"MYAirline maintains the perspective that the suspension of our licences serves the interests of our organisation, given our historical track record in maintaining a strong operational environment, especially in terms of technical, safety, and operational aspects," it says.
"The suspension necessitates that MYAirline demonstrate its capacity to operate independently and achieve financial capability to regain full certification and the reinstatement of its licenses."
After launching services in late 2022, the airline abruptly ceased operations in October citing "significant financial pressures."
In addition to financial problems at the airline, Malaysian media have reported that the carrier's backers face legal difficulties, with some arrested as part of an investigation into financial irregularities.