The United Arab Emirates' two home-grown short-haul airlines have come a long way since their foundation – 15 and 20 years ago, respectively – as supposedly low-cost upstarts. Both are following their own growth strategies as they bounce back strongly from the Covid-19 downturn, expand their route maps, and edge towards three-figure fleet sizes.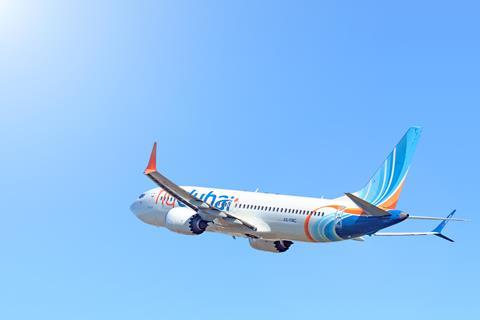 Flydubai, founded in 2008, may have once described itself as a low-cost airline, but with its plush headquarters on Dubai's developing eastern outskirts, freshly minted code share agreements with two leading North American operators, and an improved business class product destined for its Boeing 737 Max and NG fleet, there is little no-frills about Emirates' independent sibling.
Chief executive Ghaith Al Ghaith recalls when his boss Sheikh Ahmed Al Maktoum – who chairs Flydubai and Emirates – was asked at its unveiling if Flydubai would be a low-cost carrier. "His Highness's response was: 'It will be Flydubai'." Al Ghaith insists that uniqueness holds true today. Flydubai was not modelled on any airline and remains "completely distinct" from Emirates, he says.
Al Ghaith describes Flydubai's mission as "connecting Dubai to places it was not connected to", complementing the all-widebody offering of Emirates, which Flydubai code shares with on about 30 routes. Flydubai serves around 120 destinations – including 20 introduced this year – about three-quarters of which do not overlap with Emirates.
Just 25km away from Flydubai's Dubai International hub, Sharjah's Air Arabia has adopted a different expansion path since its foundation in 2003. A core part of the all-Airbus A320 family operator's philosophy has been establishing joint ventures with local partners in Armenia, Pakistan, and the UAE emirate of Abu Dhabi, where it partners with Etihad. It also has offshoots in Egypt and Morocco.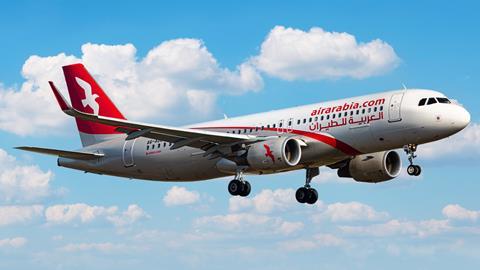 Chief executive Adel Ali too is reluctant to describe the carrier as low-cost, despite its single-cabin product. "My belief is that the term low-cost carrier is about how you manage cost and not about the customer experience. The customer needs to be satisfied and feel that they have had value for money," he says.
The airline operates 11 aircraft from Abu Dhabi, launching its operation there in July 2020 at the height of the pandemic. "We were invited by Etihad to provide routes to feed their long-haul operation, although most of our traffic there remains point-to-point," says Ali. "Because of when we started, the first 12 months were difficult, but things are improving."
Around the time Air Arabia began its Abu Dhabi operation, Hungarian carrier Wizz Air launched its own spin-off in the UAE capital, serving routes in eastern Europe as well as the Middle East and central Asia. However, Ali says Wizz Air's "ultra-low cost" product means "we are not really competing with them", adding wryly: "People can have an enjoyable trip with us."
While his aspirations are modest for Air Arabia's year-old, two-aircraft Armenian venture, Fly Arna, Ali has high hopes for co-owned Pakistan airline Fly Jinnah, which began flying domestic routes last year. Its three aircraft are achieving load factors of 94%, and Ali plans to increase the fleet to five by the end of the year, as well as seek approval to launch international services from its Karachi hub.
A Sudanese joint venture with local conglomerate DAL Group, announced last year, is on "long-term hold" following political upheaval in that country. However, Ali says there is still potential for other initiatives within and outside the Arab world. "We will look at each case, and if a good business opportunity comes up, we will take it," he says.
Both Flydubai and Air Arabia are in the middle of extensive fleet renewals. Air Arabia has 71 aircraft, all powered by CFM engines, including nine A321LRs. At the 2019 Dubai air show it ordered 120 A320neo family jets, including 27 A321LRs and 20 A321XLRs. Although Air Arabia intended to begin taking deliveries of those aircraft next year, Ali says 2025 is now a more realistic start date.
The LRs – with their 4,000nm (7,400km) range – have allowed Air Arabia to introduce flights to the likes of Bangkok, Kuala Lumpur, and Milan. The XLRs will allow deeper penetration into Africa, Southeast Asia, and Europe, including the UK, says Ali. "If you are a UAE carrier, you have to go to the UK," he notes. "We will definitely go to London, but other cities too."
Flydubai's 79-strong 737 fleet includes 46 Max 8 and three Max 9 jets. In 2021 it cut by 65 the total number of aircraft on order with Boeing to 186. While it is steadily replacing its NG variants with the Max, Al Ghaith says delayed shipments will force it to retrofit its latest business class product on older-generation aircraft and keep some up to four years longer than their intended eight-year life.
"The problem is that aircraft that were meant to be delivered this year now won't be, and we are having to retain older aircraft," he says. "We have an aggressive plan to introduce as many Max variants as quickly as we can. Our biggest disappointment is that they are not coming as fast as we would like."
Flydubai has business class cabins on all its aircraft, but its newest come with 10 premium suites with a sliding privacy door. Six aircraft – serving longer routes – will have the interior by the first quarter. Although its business class caters largely for Flydubai customers travelling for leisure but happy to pay for extra comfort, Al Ghaith says it is also vital for codeshares with Emirates and others to work.
While Flydubai has a long-standing cross-selling pact with its sibling, both United Airlines and Air Canada have also this year extended their codeshare agreements with Emirates to include Flydubai. "It is a fantastic opportunity to leverage the huge network, not just of Emirates, but also of two of the most important airlines in the world," says Al Ghaith.
Route expansion is also on the cards for Flydubai, including into Africa – it has just launched Mombasa – and the former Soviet Union. "When I was with Emirates, it was all about east and west," says Al Ghaith. "But going north is a big potential, and we are making that happen, including more destinations in Kazakhstan and Uzbekistan. We also don't go to enough places in Africa."
Both carriers have rebounded impressively from the impact of the pandemic, recording strong profits in their latest financial results. Dubai's delayed Expo 2020 in 2021, together with last year's Qatar football World Cup, helped kickstart Flydubai's recovery and this has continued into the current year. "In the last six months we have seen the highest demand for traffic ever," says Al Ghaith.
Over at Air Arabia, Ali says the airline has enjoyed "continuous growth" since countries began opening borders and welcoming tourists again. "There has been so much pent-up demand," he says, adding that, with "demand continuing to exceed supply across the market, yields are holding". Air Arabia has maintained load factors of more than 80% this year.
It remains to be seen whether either airline will add to its orderbook at the upcoming Dubai air show in November, although Al Ghaith has previously hinted that he is attracted to the A321LR, which with around 500nm additional range and able to carry around 30 more passengers than the Max 8 could open new route opportunities.
As for the futures of the long-standing low-cost leaders who have led their respective airlines since they took to the skies, Al Ghaith has been tipped to replace 73-year-old Emirates boss Sir Tim Clark when he retires. Meanwhile, Ali insists he has no plans to quit. "This is my enjoyment," he says. "The day it turns into a job is the day I will step aside."