China's Hainan Airlines has forecast a staggering full-year net loss of between CNY58 and 65 billion ($9-10 billion), with asset impairment costs expected to account for a significant portion of its red ink.
The carrier, whose parent HNA Group was the subject of a creditor-led bankruptcy filing, discloses that it expects operating losses for the year ended 31 December to be around CNY16.5 billion yuan. This was due to a collapse in travel demand arising from the coronavirus pandemic.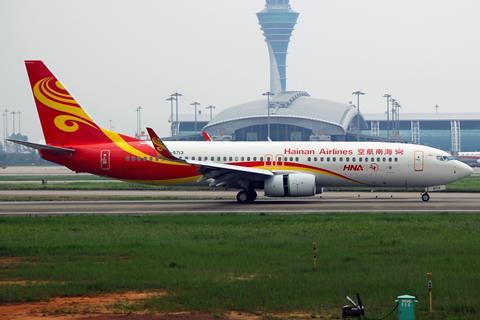 However, it forecast impairment losses in the region of CNY46 billion, as a result of its dealings with its troubled parent company and its sister companies.
"The company expects losses may occur in the equity investments held in related parties, [as well as] financial and aircraft assets," Hainan states.
The carrier also warned that it could be delisted from the Shanghai Stock Exchange if its audited financial results show an excess of liabilities over assets.
The sombre forecast of heavy losses reverses the CNY543 million full-year net profit it earned in 2019.
It also comes amid broader woes confronting the HNA Group. On 29 January, HNA Group disclosed that its creditors have sought to put it in bankruptcy reorganisation, after it was unable to pay off its debts.
The group had already been in financial strife even before the coronavirus pandemic struck. In March 2020, it requested the Hainan provincial government to render it a lifeline by looking into its risk management efforts.