Heart Aerospace insists operators are squarely behind its decision to ditch the development of an all-electric 19-seater in favour of a 30-seat hybrid-electric aircraft, with a significant number of customers having already transitioned to the updated model.
Unveiling the larger ES-30 on 15 September, Heart disclosed that launch customers Mesa Airlines and United Airlines – each has placed orders for 100 units, with another 100 options between them – had already "reconfirmed" their commitments for the new model. Air Canada has also signed for 30 examples.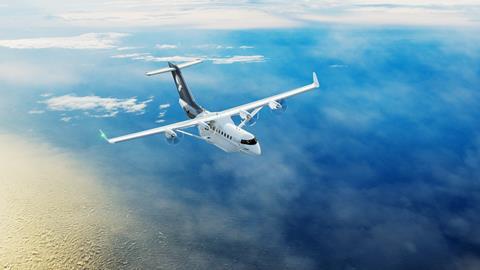 In addition, several customers holding letters of intent (LoI) for the discontinued ES-19 have also moved across to the ES-30. These include operators Braathens Regional Airlines, Icelandair, SAS, and Sounds Air, plus lessor Rockton, and account for a total of 96 aircraft.
Anders Forslund, founder and chief executive of Heart Aerospace, says customer feedback helped to shape the updates to its design.
"When we started considering making these changes the first thing we did was to call up all the airlines," he says.
Aside from the increased capacity, range has grown thanks to the implementation of a hybrid- rather than full-electric powertrain. The cabin is also significantly larger, allowing the inclusion of overhead bins and a bigger baggage compartment.
As Heart has grown as a company there is now a better understanding of "exactly how we build an aircraft for airlines and the global market," Forslund adds.
Anko van der Werff, chief executive of SAS, which now has a place on the company's advisory board, says that one element of its feedback "was not to go too small".
While conceding that even a 30-seater may not fit perfectly with the airline's current operation, Van der Werff notes that "you have to start somewhere" and sees future stretched variants as offering greater potential. "The trend is really in the right direction," he says.
"They have listened to us as customers and we have listened to them – together we have started building an aircraft."
However, he is staying tight-lipped on how many aircraft are covered by its revised LoI, particularly given the price differential between the ES-19 and ES-30; SAS will take "at least two", he says, "but we want to go bigger and do much more".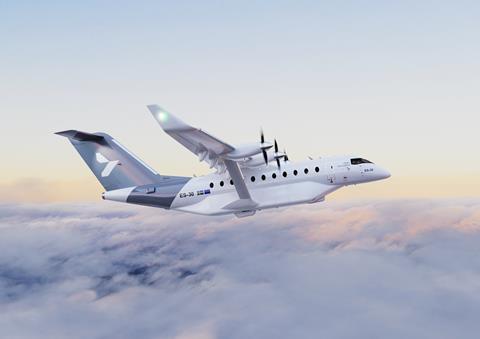 If network carrier SAS is approaching electrification of its fleet from one direction, then New Zealand's Sounds Air is coming from entirely the other. Located at the northern tip of South Island, the airline currently operates a fleet of 10 small turboprops – six Pilatus PC-12s and four Cessna Caravans – on inter-island flights.
"Our ambition is to be one of the first in the world to fly an electric airplane," says director Rhyan Wardman.
Sounds Air's LoI is for sufficient aircraft to "convert the entire fleet", he says. Although conceding there is a "bit of a jump" between the size of the aircraft it currently operates and the ES-30, he sees as attractive "all of the other benefits that come out of this design", such as longer range.
Service entry for the ES-30 is 2028 – two years later than the original target for the ES-19. Wardman says this delay is "not a concern", adding: "Going from nine to 30 seats – this gives us time to grow into that product."
Currently absent from the list of those holding revised LoIs is Finnair, which in 2021 unveiled a tentative agreement for up to 20 ES-19s.
Forslund says talks with the Helsinki-based carrier are ongoing: "We continue to have good discussions with Finnair. We hope to be working with them in the future."
Simon Newitt, chief commercial officer, says that despite the higher cost of the ES-30 "so far we are not seeing any [backlog] degradation" as customers convert their earlier interest in the ES-19.
However, the 96 aircraft covered by the revised LoIs is some way short of the around 250 tentative commitments previously highlighted by the company; Newitt describes the effort as a "work in progress".
Heart's newly constituted advisory board – dubbed Heart Partners — comprises 21 members, including airports, lessors and airlines "from the largest of network carriers to the very smallest of regional operators from all over the world," says Newitt.
The "fantastic group" will assist the company "as we journey along with the design and the development of the ES-30 from now all the way to entry into service and beyond", he adds.

Dominic Perry is deputy editor of Flight International but also contributes extensively to flightglobal.com. Although specialising in the coverage of the helicopter industry, he has written on most topics in aerospace – be they commercial, defence or business aviation. In addition, there has been an increasing focus on the decarbonisation of the industry and zero-emission flight initiatives.