London Heathrow airport is reviewing its long-term expansion options, including the possibility of reigniting plans to build a third runway.
Plans were in place for the expansion of the UK hub pre-Covid, but were shelved amid the devastating impact of the pandemic on airline traffic.
Speaking at the Airlines 2023 conference in London today, Heathrow chief strategy officer Chris Annetts said that under new chief executive Thomas Woldbye, options for long-term capacity growth at the hub are again being considered.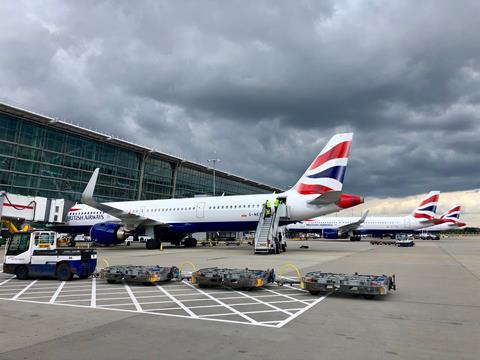 "The question is how do you deliver [airport expansion] and when does it come," he states. "That's the big question that we're now discussing with Thomas joining us about a month ago.
"We are now actively reviewing that and trying to work out the answer to that question."
Acknowledging that "expansion as a programme has a lot of baggage with it", Annetts nevertheless says that the need for more airport capacity in the UK is demonstrated by "long-term demand forecasts that still look broadly the same as they did pre-Covid".
Heathrow has "plenty of room to grow in the short to medium term" with its current two-runway system, but fulfilling the UK's "full growth potential" would require projects such as Heathrow's third runway and the use of a second runway at Gatwick, he suggests.
Speaking at the same event, UK transport minister Mark Harper said of a potential third runway at the British Airways hub: "If Heathrow want to bring forward a proposal, that will obviously get looked at in the proper way.
"I can't set out a view either way."
Harper notes that as transport secretary, he would "effectively be the planning authority" for the project.