The Hong Kong government has warned that it could take legal action against home carrier Cathay Pacific for "non-compliance" of the city's strict quarantine measures.
At a 11 January press briefing, Hong Kong leader Carrie Lam says her government will put the airline "under full investigation".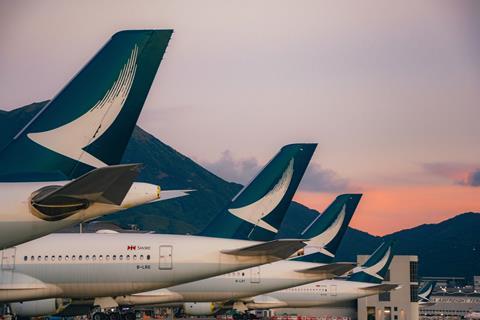 "We will take legal action once we have the full evidence of what wrong [Cathay] has gone into," Lam told reporters.
Hong Kong, one of the remaining places in the world to maintain a strict zero-infection strategy in line with Mainland China, has seen a surge in coronavirus infections in recent weeks, caused by the more infectious Omicron variant.
The recent outbreak has been traced back to Cathay air crew who were found to have breached home quarantine rules. Cathay has since dismissed two crew members who tested positive for coronavirus.
Hong Kong eased quarantine requirements — among the most onerous in the world — for air crew, to allow airlines to sustain air cargo operations into the city.
Says Lam on 11 January: "Cathay Pacific is a very big non-compliance case because the air cargo crew should not have gone out during the quarantine at home. And worse still, if we discover through full investigations that some crew of Cathay Pacific, or some staff of Cathay Pacific, should not have been travelling back on a cargo flight and enjoying this exemption, that would be much bigger non-compliance."
The potential legal issue will only add to Cathay's mounting woes. Already impacted by a collapse in travel demand and a lack of domestic market, the loss-making carrier has recently had to cut back on operations because of tougher crew quarantine rules, which were imposed after the breach occurred.
At the start of 2022, Cathay was only operating at 2% pre-pandemic capacity for passenger flights. Cargo flights, the financial lifeline for the struggling carrier, saw capacity slashed to just 20%, from earlier estimates of 71%.
Separately, Hong Kong has expanded its list of high-risk countries to include Azerbaijan, Uzbekistan and the Solomon Islands. Already it has banned incoming flights from countries such as the UK, USA, Canada and Australia, to stem the spread of the pandemic.