Hong Kong-based airline start-up Greater Bay Airlines has secured its AOC, clearing a significant milestone in launching operations.
However, the airline, which will become Hong Kong's eighth carrier, remains coy about when actual flights will commence.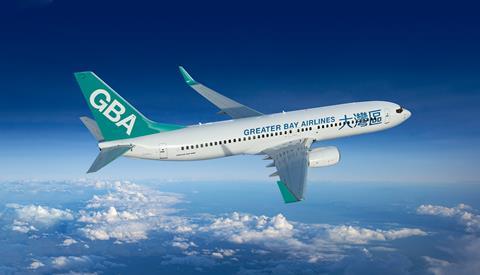 It notes that it is still "early days" in working through the remaining regulatory processes, including obtaining an operating licence from the territory's Air Transport Licensing Authority (ATLA). The airline adds that it is "working closely with great support from authorities" in clearing the last hurdle towards service launch.
Greater Bay Airlines needs to obtain both an AOC, as well as the ATLA licence to formally commence operations.
"We shall plan for our first flight when the situation is clearer," says the carrier, which is headed by former Cathay Dragon chief Algernon Yau and is backed by Donghai Airlines owner Bill Wong Cho-bau.
The carrier had previously hoped to commence operations to Singapore, Bangkok and Phuket — its initial destinations from Hong Kong — by the fourth quarter of the year.
In a 8 October press release, Greater Bay Airlines confirmed that the three cities will remain its launch destinations, though it adds that it will be subject to regulatory approval, as well as the coronavirus pandemic situation.
Greater Bay Airlines took delivery of its first Boeing 737-800 in early September, a former Norwegian Air example. It has since grown the fleet to three aircraft, and hopes to have seven 737s in its fleet by end-2022.