While the entire airline industry was given a harsh reminder about the impact of outside factors on its fortunes during the Covid-19 crisis, for some carriers the turbulent backdrop did not relent, even as the worst of the pandemic was over.
Air Astana is a case in point: unrest in its home country during January 2022 was soon followed by neighbour Russia's invasion of Ukraine, creating a host of fresh challenges.
But under the long-term leadership of Peter Foster, Kazakhstan's flag carrier managed to remain profitable last year as it grew above pre-Covid traffic levels, having already moved back into the black in 2021, as it continued to demonstrate that opportunities can be found in the toughest of environments.

Speaking to FlightGlobal in June, Foster explained that the airline's growth has continued this year and that it is looking forward to future network expansion opportunities as it updates its fleet and sees rapid demand expansion at its low-cost unit FlyArystan. At the same time, however, he acknowledges that Air Astana is operating in a world where inflationary pressures, capacity constraints, staffing shortages, high costs and moderating demand mean the industry might be heading towards a raft of 'normalisation' challenges sooner rather than later.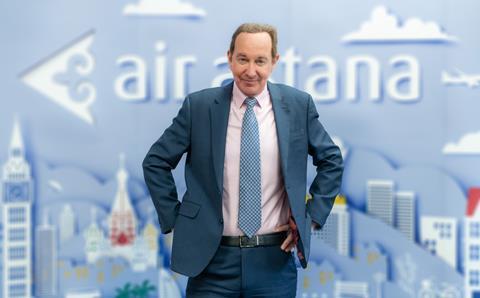 Those factors are likely to test Air Astana's – and the wider industry's – mettle in the coming months, Foster says. But he is confident that his business is well-placed to continue its successful emergence from the pandemic years.
"We feel we're in a pretty good place at the moment, notwithstanding the structural problems in the industry, in terms of a lack of resources, supply chain, so on and so forth," he states.
That confidence partly stems from the airline's performance and restructuring work during the pandemic.
Air Astana was helped in securing its foundations during the Covid-19 crisis by the Kazakh government's "relatively liberal attitude towards travel into and out of the country", Foster explains.
"So really, it was just a question of finding places where we could fly to… certain countries had a relatively pragmatic approach to Covid, such as Dubai, the Maldives, Montenegro, and various others."
After "completely re-doing" its international networks, Air Astana worked with its business partners "to manage that financially", Foster says, ultimately meaning it did not require government or shareholder support – BAE Systems remains a 49% shareholder, with Kazakhstan's sovereign wealth fund holding 51% – during the global industry crisis.
"We feel we're in a pretty good place at the moment, notwithstanding the structural problems in the industry"
Furthermore, unlike many of its peers, Air Astana remained financially sound without significant recourse to cargo markets at the height of the pandemic, with that segment generating "useful" but not "crucial" cash flow between April 2020 and March the following year, he states.
Air Astana converted a Boeing 767 into a "semi-freighter" in 2020, Foster recalls, but that was back into passenger configuration at the start of 2021.
And as it sought to stay on the front foot, Air Astana "never made anybody redundant" during the crisis, enabling it "get off and get going again very quickly", he says.
STRONGER FOUNDATIONS
That approach goes some way to explaining why Air Astana was on solid foundations when Russia's invasion of Ukraine threatened to bring a whole new air travel crisis to the region.
The war has undoubtedly created airspace headaches for Air Astana – insurance and aircraft registration issues meaning it stopped overflying Russia last year – but rather than being thrown off course, Air Astana has benefitted from the shifting south of passenger traffic that would have once of flown to, from and through Russia.
"Structurally, what's happened is that there has been a shift [in traffic] from the Russian Federation down to Central Asia, and Kazakhstan is extremely well placed to benefit from that," Foster explains. "So we have found a lot of traffic that's actually come our way, following the loss of Russian fights and Russian overflights.
"Whilst what is happening [in Ukraine], of course, is deeply tragic and concerning, from a strictly business point of view, we have been able to absorb those difficulties and have been able to go forward very positively."
That is contributing to a "very strong" demand environment today, Foster says, which is being served by a group fleet of 45 or so aircraft – up from around 35 in 2019 – on a mixture of domestic and international services.
Low-cost brand FlyArystan – which still operates under the Air Astana AOC – accounts for around 16 of those aircraft and continues to be a big driver of the business's growth.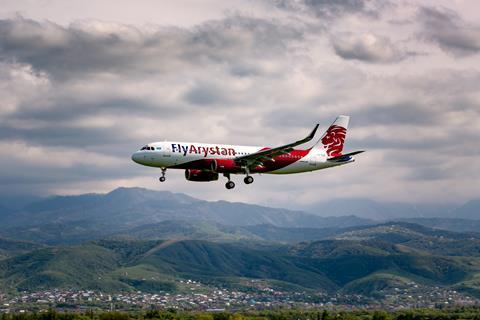 "It has gone from around 4 million passengers in 2019 to around 8 million today," Foster states. "[Kazakhstan has] the fastest growing domestic market in the world at the moment, and that to a huge extent has been driven by FlyArystan."
That growth has come from opening up the local market to a "completely new segment of passengers" in what is a huge country.
Fares with FlyArystan are, on average, around 45% lower than Air Astana's, Foster explains, at $49, attracting what were previously "non-flyers".
"Structurally, what's happened is that there has been a shift in traffic from the Russian Federation down to Central Asia, and Kazakhstan is extremely well placed to benefit from that"
Still, despite Air Astana's impressive growth, Foster is acutely aware that it is not immune from some of the industry-wide challenges that are on the horizon – including the eventual moderating of the pent-up travel demand that has defined the past 12 months or so for so many carriers.
The fourth quarter of this year will be a "litmus test" for his carrier and the wider industry, Forster suggests.
"Last year was very strong, unnaturally strong really for a fourth quarter," he says. "This year, will there suddenly be an end to this boom in the market? Will discretionary travel cease to be so frequent? Will business travel partially go back online?
"I think the answer is that that is inevitable [but] the question is the timing."
Not that Foster is unduly worried.
RESTRUCTURING ADVANTAGE
"Airlines that took the opportunity to restructure during Covid have emerged with a much stronger structural foundation," he says. "Those airlines that restructured will go into the medium to longer term with a much healthier fundamental cost structure.
"That certainly is the case as far as we're concerned."
And that is fortunate, because Foster describes the current airline cost environment as "very high pressure", even after fuel had "stabilised" during the first half of the year.
"All of the costs are suffering from very significant inflationary pressures, so it's putting an enormous pressure on the cost base, which is shoving up yields," he states.
As an example of the severity of some of those cost increases, Foster cites "dramatically" higher staffing costs, including pilot salaries that have risen by 40-50% over the past 18 monhts or so.
And still, attracting pilots and cabin crew remains a constant challenge, he states, describing it as a "global trend".
"How long can the market continue paying these necessarily higher prices in order to cover these extra costs, driven by inflation?" he asks. "And what's the reaction from consumer groups, governments, so forth?
"So there are twin pressures on those yields." he states. "Demand is not in inelastic, airlines cannot keep raising prices to cover inflation forever."
Despite that concern, in common with many of his peers, Foster also laments the fact that "we have to fly less than we'd like" in the current capacity-constrained environment. When it comes to airline's metal, two factors are weighing on expansion: delivery delays and the grounding of aircraft because of issues with Pratt & Whiney engines.
"Roughly speaking, all aircraft deliveries are being delayed to the order of magnitude of about six months, which is disruptive," Foster says.
He expects those delays to have some impact on the delivery dates for Air Astana's three on-order Boeing 787-9s, which are being taken through Air Lease, with deliveries due to begin in 2025, as it phases out its Boeing 767-300ERs.
"We expect those to be late as well because of the Boeing production problems… but we are hoping to get that aircraft in 2025."
Furthermore, the airline's current Airbus A320neos and Embraer E190-E2s are vulnerable to the high-profile issues with their PW1000G-family engines.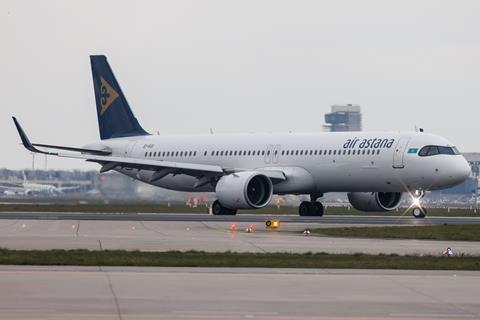 "We're seeing some improvement, but the issue really is… lack of MRO and lack of engine shop capability, which means that when engines go into the shop, they're spending far, far longer in the shop than has historically been the case with other engine types," he explains.
"The upshot of that is that we are short of capacity," Foster says, adding that the airline is flying its in-service fleet "as aggressively as we can" to offset those factors.
The A320neo family remains "the backbone of the fleet", he states, despite the engine issues.
Alongside three Boeing 767-300ERs, Airbus A321LRs power the airline's international operations but are "operating pretty much to the end of their envelope" to destinations such as Frankfurt, Bangkok and Kuala Lumpur. Air Astana is therefore also looking at the A321XLR as a future fleet option.
That potential requirement has become more acute since Air Astana's aircraft are unable to overfly Russia, meaning flights to London, for example, are already required to take a "tech stop" because of the circuitous routing now required.
"Roughly speaking, all aircraft deliveries are being delayed to the order of magnitude of about six months, which is disruptive"
"All of our European flights are going around the southern coast of the Black Sea, up into Europe, from the southeast," he states. "So it's added a lot of flying time to our European flights."
The XLR would also open up new route options for the carrier.
"If it adds an extra 450 nautical miles, it would enable us to do London, Singapore, Japan without those stops – if it does what Airbus says it's going to do," Foster states.
Indeed, he cites plenty of potential future destinations for Air Astana and its narrowbody and widebody fleets.
ASIA RETURN
The "single biggest story" in the industry today is, however, the return of Asia, according to Foster.
While Southeast Asia is "doing very well" in terms of demand, China has been "less strong than anticipated".
Speaking before China removed more restrictions on outbound group travel in August, Foster speculates that the slow return of the Chinese market might partly reflect a reticence among its citizens to travel so soon after the country's draconian Covid-19 restrictions were dropped, and also economic challenges in the country.
Still, he assumes it will "start to pick up in 2024".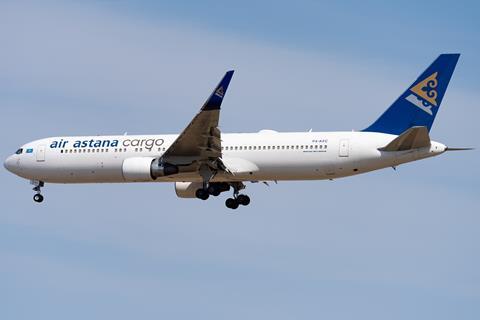 The full return of that key market would be another important milestone for Air Astana's journey beyond the Covid-19 crisis.
As that journey continues, Foster acknowledges that he leads a business in an industry where "crises will always happen".
And they will "always be unexpected and different", he says, observing that the pandemic "reminds us just how much airlines are required to keep healthy cash balances and how those cash balances can drain very quickly".
Cash, then, will be a key component to Air Astana's future success, as will the "very tight and flexible decision-making" that helped it through the past three years.