Amid the Asia-Pacific's continued recovery, Japan's two largest airlines and Qantas are adding to their international networks, with All Nippon Airways deploying its third A380 for the first time.
ANA has announced a range of schedule changes for the second half of its 2023 financial year, which runs to 31 March 2023. Notably, ANA will start operations with its third Airbus A380 on the Tokyo Narita-Honolulu route.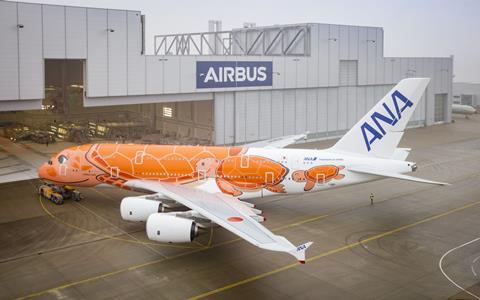 The aircraft, JA383A, was delivered in October 2020 amid the coronavirus pandemic and immediately entered storage. The sole mission of ANA's A380s is serving the popular Tokyo-Honolulu route.
ANA's A380s have 520 seats and feature a distinctive "Flying Honu" livery. The 20 October flight will be the first operational service for ANA's third and final A380.
ANA will also launch a services from Tokyo Haneda to the Chinese cities of Qingdao and Guangzhou, in addition to several other network changes, which emphasise the addition of capacity on Chinese routes.
ANA's low-cost unit Peach is also boosting international capacity, specifically from Osaka Kansai to Hong Kong and Seoul.
Japan Airlines, citing the return in travel demand with the end of the coronavirus pandemic, is also boosting capacity to destinations such as Hong Kong, Los Angeles, and Honolulu.
"Driven by the positive market recovery and the reclassification of COVID-19 to a class 5 infectious disease, there has been a steady increase in travel demand for both business and tourism customers arriving in and departing from Japan," says JAL.
"Additionally, the impact of a weaker yen has contributed to a flourishing inbound demand."
Qantas Airways says that its pre-pandemic international network will be fully restored by March 2024, up from 80% now.
"Qantas has received three long-awaited Boeing 787s in recent months and is gradually able to return more of its Airbus A380s to service as they complete post-storage maintenance, which is enabling flying levels to steadily increase to meet strong travel demand," says the Australian carrier.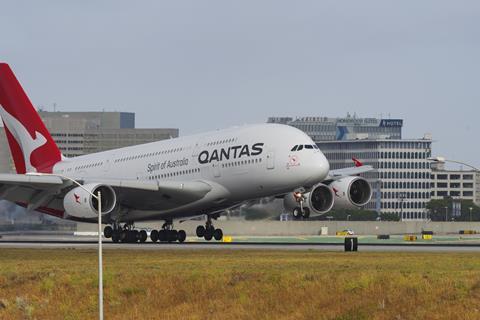 The carrier is adding capacity on several routes. The daily Sydney-Bali service will be upguaged to an A330 from a 737-800, and August will see the Sydney-Auckland-New York route go to daily from four times weekly.
Qantas's Sydney-Shanghai service will resume in late October, as well as services from Brisbane to Honiara and Wellington.
July 2024 will also see some key changes, with A380s deployed on the Sydney-Johannesburg route for the first time, and more A380s deployed on Melbourne-Los Angeles, boosting capacity on the route by 20%. Also in July 2024, the Sydney-Los Angeles frequency will grow from eight flights weekly to nine, operated by a mix of 787-9s and A380s.
Philippine Airlines has improved its international connectivity to Africa, Europe, and the Middle East through an expansion of its interline agreement with Emirates – PAL operates daily to Dubai.
Cebu Pacific, meanwhile, will commence a three-times-weekly service on the Manila Da Nang route from 7 December.
Air India has also boosted its Europe connectivity through a partnership with Accesrail, allowing passengers to buy an "intermodal" ticket that includes the air and rail portions of a journey.
"The expansion of our global network is one of our key priorities in the ongoing, comprehensive transformation of Air India," says Nipun Aggarwal, chief commercial and transformation officer at Air India.
"This partnership with AccesRail not only helps us to provide our guests easy access to an extended network of destinations across Europe, but also to bridge the gaps in connectivity between India and Europe."
Southeast Asian low cost carriers have also added to their international networks, with Vietjet Air's launch of its Ho Chi Minh City-Kochi service, and Batik Air's resumption of flights on the Kuala-Lumpur-Chennai route.
Indonesia's fast growing LCC Super Air Jet will also launch its first international route on August 23, with a new Surabaya-Kuala Lumpur service.