The commercial airline industry showed improvements in several key safety metrics for 2021, according to IATA, although turboprops again significantly lagged the performance of jet aircraft.
Releasing its latest annual review of safety data on 2 March, the airline association notes that based on 2021 figures, an individual would need to take a flight every day for just over 10,000 years on average to be involved in an accident with at least one fatality.
The data covers a full year of significantly disrupted commercial aviation networks as a result of Covid-19-related travel restrictions, with flight numbers 45% down on 2019 but slightly up on those seen in 2020.
IATA's five-year accident overview
2017
2018
2019
2020
2021
2017-2021
average
Yearly flights (millions)
42.5
45.5
46.8
22.2
25.7
36.6
Total accidents
46
62
52
35
26
44.2
Fatal accidents
6
11
8
5
7
7.4
Fatalities
19
523
240
132
121
207
The headline figures for the year show 26 major accidents – incidents involving either substantial aircraft damage or complete hull loss – across 25.7 million flights. The major accident rate of 1.01 per one million flights represents an improvement from 1.58 in 2020 and is ahead of the 2017-2021 average of 1.23.
Seven of the 26 accidents involved fatalities, which totalled 121 for the year. Six of the fatal flights were turboprop operations.
In terms of hull losses – where the aircraft is damaged beyond economical repair – there was one for every 7.7 million jet aircraft flights across the year; for turboprops, a loss was recorded once every 560,000 flights.
"Turboprop operations will be a focus area to identify ways and means to reduce the number of incidents related to certain aircraft types," says IATA director general Willie Walsh.
Indeed, despite only accounting for around 11% of flights in 2021, accidents involving turboprop aircraft represented 50% of all accidents, 86% of fatal accidents and 49% of fatalities, IATA states.
Turboprop accidents drove the overall fatality risk – measured in hull losses per million sectors – higher to 0.23, from 0.13 in 2020 and 0.14 across 2017-2021.
For jet flights, however, the fatality risk improved versus the five-year average of 0.06, at 0.04 in 2021.
IATA's 2021 airline safety performance data highlights
2021
2020
5-year average
(2017-2021)


All accident rate (accidents per one million flights)

1.01 (1 accident every 0.99 million flights)

1.58 (1 accident every 0.63 million flights)

1.23 (1 accident every 0.81 million flights)

All accident rate for IATA member airlines

0.44 (1 accident every 2.27 million flights)

0.77 (1 accident every 1.30 million flights)

0.72 (1 accident every 1.39 million flights)

Total accidents

26

35

44.2

Fatal accidents

7 (1 jet and 6 turboprop)

5

7.4

Fatalities

121

132

207

Fatality risk

0.23

0.13

0.14

IATA member airlines fatality risk

0.00

0.06

0.04

Jet hull losses (per one million flights)

0.13 (1 hull loss every 7.7 million flights)

0.16 (1 hull loss every 6.3 million flights)

0.15 (1 hull loss every 6.7 million flights)

Turboprop hull losses (per one million flights)

1.77 (1 hull loss every 0.56 million flights)

1.59 (1 hull loss every 0.63 million flights)

1.22 (1 hull loss every 0.82 million flights)

Total flights (million)

25.7

22.2

36.6
Three of the six fatal turboprop incidents were in the Commonwealth of Independent States region, IATA says, with the other three taking place in Africa. None of the airlines involved in those incidents were IOSA registered, it states.
For airlines on the IOSA registry – the global industry standard for airline operational safety audits and a requirement for IATA membership – the all-accident rate was six times better than for non-IOSA carriers, IATA states.
The biggest incident involving a turboprop aircraft saw an Antonov An-26 operated by Kamchatka Aviation Enterprise crash into a cliff while on approach to Palana, Russia, on 6 July. All six crew members and 22 passengers were killed.
The single fatal crash involving a jet aircraft during 2021 was that of a Sriwijaya Air Boeing 737-500 off the coast of Indonesia on 9 January, which killed six crew and 56 passengers.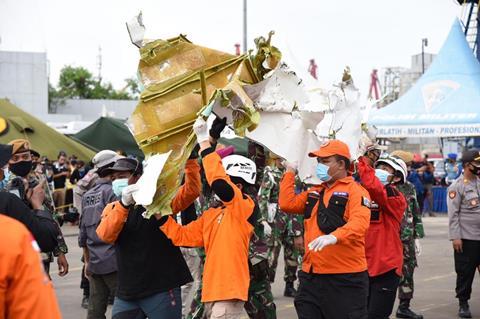 The airline association says that the fatality risk among its member airlines was zero during 2021.
And for the first time in at least 15 years, there were no runway or taxiway excursion accidents, it adds.
FlightGlobal's own 2021 safety survey contains details of accidents recorded across the year. Its scope is wider than IATA's data, which only considers aircraft with a maximum take-off weight (MTOW) above 5,700kg (12,500lb).