IAG is still experiencing a slower-than-expected recovery in corporate travel following the Covid-19 pandemic, with British Airways seeing demand plateau in the second quarter of this year.
Reporting a consensus-beating second-quarter profit of more than €1 billion ($1.1 billion) on 28 July, the European airline group expressed no concerns about revenue recovery or growth, noting that any corporate travel weakness was being offset by strong leisure demand, particularly in the premium segment.
But after flagging a slow corporate travel recovery in the first quarter, IAG saw that trend continue into the second three months of the year, prompting it to reconsider when its volumes in the segment will reach 80-85% of those seen in 2019 – a milestone it had previously forecast for later this year.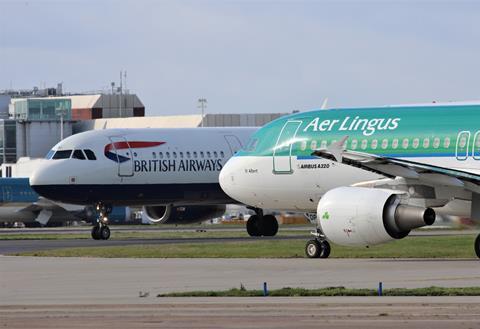 Notably, corporate travel volumes at British Airways did not improve in the April-June period, having consistently risen at 10% each quarter since the same three months of 2022.
That left BA business-travel volumes at 60-61% of 2019 levels in the quarter, on revenue at around 69%.
"It is true that the volume of flight cancellations does not help but we [still] see that things had not been improving recently," said IAG chief executive Luis Gallego during an earnings call, referencing some of the operational challenges faced by BA and Aer Lingus in recent months.
Iberia, meanwhile, saw corporate volumes at around 82% of pre-Covid levels in the quarter, on revenues at 95%, continuing a trend that has seen the Spanish flag carrier recover much more quickly in that segment.
Gallego says the difference between the performance of IAG's two biggest airlines reflects a "correlation between business travel and people returning to the office". In that regard, the corporate markets served by BA – and, he says, Aer Lingus – still feature much more home-working than those served by Iberia.
The IAG chief also observes that long-haul business trips of more than two days have been recovering faster than shorter trips.
"But we are more optimistic about the future," Gallego says. "For the third quarter, BA is forecast to reach 68% of corporate traffic compared with 2019.
"When we look at September, for example, business bookings are coming well and are ahead of the expectations that we had."
Still, having said as recently as May that the group expected to reach 80-85% of 2019 corporate volumes later this year, IAG is now not so sure.
"Are we going to reach the 85% that we said? We think we are, but it is going to take more time than we thought," Gallego says.
IAG chief financial officer Nicholas Cadbury had reiterated during the group's first-quarter earnings briefing in early May that the group did not believe corporate travel would return to 100% of 2019 levels, amid changing working habits coming out of the pandemic.