While IAG gave relatively little away in terms of its full-year guidance after posting a strong set of third-quarter profits, this perhaps reflects confidence in the return of the fundamentals of the business more than a lack of visibility.
IAG lifted operating profits 43% to €1.75 billion ($2.05 billion) in the three months on ending 30 September 2023 on continued strong passenger demand. All four of its main operating airlines not only improved year-on-year profitability, but exceeded profit levels of the pre-pandemic third quarter of 2019.
IAG Q3 operating profit by airline unit
Airline
Q3 2023
Q3 2022
Q3 2019
Source: IAG, results before exceptional items
British Airways
€718m
€482m
€710m
Iberia
€449m
€255m
€264m
Vueling
€282m
€259m
€230m
Aer Lingus
€196m
€139m
€169m
IAG Group
€1,745m
€1,216m
€1,413m
"We gave guidance at the back end of last year. That was purely because we were going from a Covid era to hopefully a post-Covid era – so there was quite a significant step change," explained IAG chief financial officer Nicholas Cadbury during a third-quarter results call on 27 October.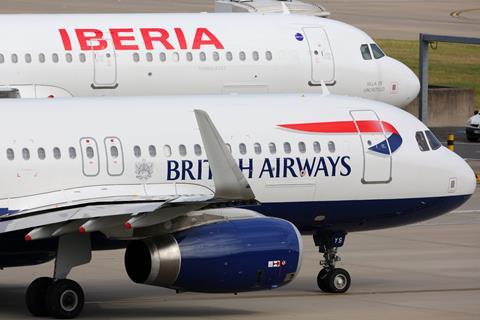 "Going forward, we want to think we are a medium- to long-term business focusing on the medium and long term rather than short-term profitability guidance," he says. "If we were far off external guidance and expectation, then we would have to say something, and we are not saying anything at the moment.
"You've got the guidance out there, I think the last published was [operating profit of] €3.2 billion and if you look at Q3 we probably beat the guidance by about €100-200 million."
IAG's operating profit after nine months stands at just over €3 billion.
POTENTIAL HAZARDS AHEAD
IAG chief executive Luis Gallego says: "We are very pleased to see how the business is performing. I think Q4 is in line with expectations. For Q1 and Q2, we have very little visibility."
That does not mean IAG is taking its eye off other developments, particular the potential impact of the outbreak of war in Israel – even if it believes it has relatively limited exposure to the region.
"We are very mindful of geopolitical and macro-uncertainties, particularly events happening in the Middle East right now," Gallego says.
"But the impact for us is limited because the flights to Cairo, Amman and Israel are less than 1% of our total seats. So it is too early to see or conclude if we are going to have any wider implication. In general, bookings are in line with our forecast, but we are conscious about the situation."
IAG also faces exposure to the Pratt & Whitney GTF engine issue which is requiring accelerated inspections of some engines. IAG estimates 32 P&W-powered Airbus A320 aircraft are affected, though again Gallego suggests it is better placed than many other impacted carriers.
"This is less than 10% of our [short-haul] fleet. So this is going to have an impact for us for sure. We are working with Pratt & Whitney in order to reduce the events we are going to have in our case. But the big impact is going to be in winter 2024, so it's not [as] relevant as for airlines that have the same type of engine."
The biggest impact will be felt by low-cost unit Vueling, which operates 29 of the affected Airbus narrowbodies – roughly a quarter of its in-service fleet, according to Cirium fleets data.
Vueling chief executive Marco Sansavini adds that the carrier is in contact with Pratt & Whitney to mitigate the impact of the engine issues. "We do not plan to have capacity reductions for next year," he says.
Neither did Gallego flag concerns over potential delays in aircraft deliveries, given the wider supply chain issues impacting manufacturers. "Yes I think we [the industry] are going to have a problem with the supply of aircraft and also we are going to have a problem with maintenance and some parts, but in our case we continue with the plan that we have," he says.
Cadbury adds that the airline has been "quite cautious" in terms of its delivery plan guidance. "We said at the start of the year we would have 30 aircraft delivered and we are still going to get 30 aircraft delivered this year," he says.
MIXED REGIONAL RETURNS
While on the face of it the profitability recovery across its airlines illustrates a return to business as usual, there do remain differing trends in terms of returning capacity and business travel.
IAG group capacity is set to reach pre-Covid levels in the fourth quarter of the year – meaning full-year capacity will stand at around 96% of 2019 levels.
"All of the airlines of the group, except BA, will finish the year at above 100% of 2019 levels," says Gallego.
"The main reason is that BA retired during Covid the 747 fleet and because of that, the long-haul capacity would only reach 2019 levels by 2025. And it is going to take even more time for business-class capacity, so they will reach 2019 levels around 2026."
BA chief executive Sean Doyle adds: "Our business-class capacity will be down about 11% this year; we think that will moderate back to 2019 levels by about 2026, when we start taking delivery of 777-9Xs.
"The other thing which is affecting ASK levels is we are doing a lot less Asia flying, which means we are flying shorter sectors, so we also have a gauge change," he adds.
IAG also continues to see a slower recovery in business travel, which has been offset by strong leisure travel. Business travel volumes stood 64% of pre-crisis levels and at 74% in terms of revenues in the third quarter.
"We have said we see a correlation between business travel and people returning to the office," says Gallego. "There is also a difference in the rate of recovery in the different types of business trips and between regions. So, for example, long-haul business trips have recovered faster than shorter trips. All this has been offset by stronger leisure.
"The recent [business travel] trends – the last five weeks – show 69% in volumes, 78% in revenue [versus 2019]," he adds, highlighting the different rates across its airlines. "So, for example, BA is 64% in volume and 75% in revenue, Iberia 86% in volume, and 96% in revenue, [and] Aer Lingus closer to 60% in volume and 72% in revenue."