IATA has called on China to open its borders to boost air travel in the Asia-pacific following the coronavirus pandemic, and stressed that Asian government support is essential for the airline sector to reduce carbon emissions.
Addressing the Association of Asia Pacific Airlines 66th Assembly of Presidents, IATA deputy director Conrad Clifford notes that Asian airlines were especially hard hit by travel restrictions stemming from Covid-19, accounting for a third of global industry losses from 2020 to 2022. Further, travel restrictions delayed the region's emergence from the pandemic.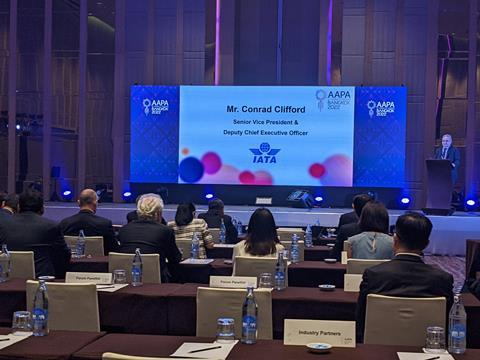 "Asia has been a laggard," says Clifford. "The rest of the world started lifting restrictions and reopening borders last year. However, it was only around April this year that positive momentum was seen in Asia."
He adds that Asia can learn from the experience in Europe and the USA, where the surge in traffic following the pandemic led to significant congestion. Therefore the region needs to get both infrastructure and manpower in place for the resumption in air traffic.
He also called on China to open. Under the 'zero-Covid' policy of Chinese leader Xi Jinping, the country remains all but cut off from international air travel.
"China continues to be a step behind the rest of the world in the recovery, remaining largely closed to international travel, and that is holding back the entire region," says Clifford.
"We all must learn to live, travel and work with COVID-19. We hope the Chinese government will have the confidence to re-open its borders soon and reconnect with the world."
On the issue of sustainability, Clifford notes that the despite airlines' travails during the pandemic, they still committed to achieve 'net zero' C02 emissions by 2050.
But achieving this requires sufficient supplies of sustainable aviation fuel (SAF). While SAF is in extremely short supply today, it is expected to contribute 65% of carbon mitigation efforts in 2050.
Conrad notes that only 125 million litres of SAF were available in 2021, accounting for just 0.05% of total fuel used.
"I urge governments in the Asia-Pacific region to look at stimulating SAF production," says Conrad. "Government incentives for SAF could see 30 billion litres of production capacity by 2030. This will also reduce the cost of SAF."
He does see some scope for optimism on the SAF front, noting that Japan and Singapore have consulted with the aviation sector, and promoted domestic production of SAF.