IATA has voiced its opposition to proposals that would see night flights banned at Brussels airport on the grounds of noise-reduction, claiming such a move would ignore Belgium's international obligations.
The country's federal transport minister Georges Gilkinet presented a document to cabinet on 14 July proposing a ban on flights from Brussels airport between 23:00 and 06:00 from October 2024. The proposal also restricts noise at other times of the day, affecting a raft of older aircraft types, including Airbus A320s and A330s, alongside Boeing 737s, 767s and 747s.
While the proposal from Gilkinet, who is a member of the Ecolo green party, still needs to win support from government coalition partners, the airline association has responded to the document amid a growing number of anti-noise moves by legislators. The most high-profile case saw a court recently lift a block on reducing flights from Amsterdam's Schiphol airport from this winter.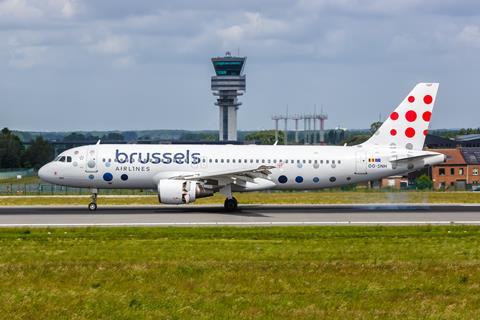 "The noise concerns of the community around Brussels airport must be heard, but it is profoundly unfortunate that [Gilkinet] has attempted to circumvent the 'Balanced Approach', which is the long-accepted and successful international process for managing airport noise impacts," says Rafael Schvartzman, IATA's regional vice-president for Europe.
The 'Balanced Approach' refers to European Union regulation introduced in 2014 that lays out the rules and procedures under which any noise-abatement decisions should be made by member states.
IATA argues that the regulation means flight restrictions should be applied as a last resort, after a "detailed consultation and cost-benefit analysis", when other mitigation measures have been exhausted.
"The 'Balanced Approach' specifically helps to mitigate noise while protecting the benefits of air connectivity for the economy and community both near the airport and across Belgium as a whole, not least in terms of thousands of jobs," Schvartzman says.
"It is vital that the government scrap this proposal and instead engage in a meaningful consultation with stakeholders."
IATA further notes that the proposal does not take into account Belgium's commitments under its bilateral air service agreements.
The Schiphol case shows, however, that airlines are vulnerable to having their operations curtailed by noise concerns, despite the apparent safeguards in the EU regulation.
Brussels airport itself had earlier responded to what it called the "far-reaching proposals", claiming they would have "unprecedented negative consequences on employment, connectivity, exports and the economy in Belgium".
The Brussels Times has also reported opposition to the proposals from Brussels Airlines chief executive Dorothea von Boxberg.