IATA has warned the coronavirus crisis will result in semi-permanent damage to the airline industry and may subdue passenger revenues until 2024.
During its latest weekly update on the coronavirus crisis, IATA on 13 May forecast that revenue passenger-kilometres (RPKs) would decline to under 4 billion per year in 2020 from around 8 billion before the virus struck.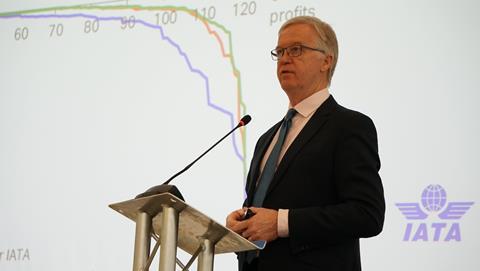 Under the association's baseline scenario, traffic will then stage a recovery to 2019 levels in 2023. This would put the key metric of airline revenues at 32% below IATA's previous expectations for 2021. The underlying assumption is that there will be a reopening of domestic travel markets in the third quarter, followed by a phased restoration of international markets.
"We think that Covid's effects on air travel are certainly going to last for a number of years, with no quick rebounds to 2019 levels, unlike the current forecast for GDP," says IATA chief economist Brian Pearce.
However, under IATA's "setback scenario" – in which lockdowns are extended into the third quarter, possibly due to a second wave of infections – global traffic would be 34% below 2019 levels in 2021 and 41% below its pre-Covid-19 predictions.
Under this scenario, 2019 levels of demand would not be regained until 2024.
Regardless of which scenario plays out, IATA expects the industry to face a far slower recovery than the wider economy. "If international borders are to reopen to international travel… this is last on the list for government measures," notes Pearce. But so far, there is little appetite for this to happen: "We have yet to see a stabilisation for Covid-19, particularly for emerging markets."
One indicator for how travel may return can be found in the Chinese market. Data from IATA shows that as the Chinese economy has reopened, business confidence in the country has bounced back, albeit to a level still lower than before the coronavirus crisis began.
Yet there has been a much slower recovery in airline passenger traffic. "It is clearly the case that air travel will lag the recovery in domestic economies, because consumers in particular will need the confidence… to start engaging in discretionary spending," says Pearce.
Another development stunting any recovery in passenger revenues is an expected fall in average trip lengths, of around 8-9%. This reflects the expectation that domestic air travel is likely to resume first, but also that consumers may be wary about venturing further from home, says Pearce. "The consequence of this is that RPKs… are likely to be growing more slowly than the rise in passenger numbers."