IATA is urging governments to launch programmes that stimulate demand for air travel and help the aviation industry recover from the coronavirus crisis.
Speaking on 8 December during the association's regular Covid-19 press call, IATA's director of global airport infrastructure and fuel Hemat Mistry argued that stimulus would enable fast recoveries from the crisis without the distortion to competition that can accompany support to individual airlines.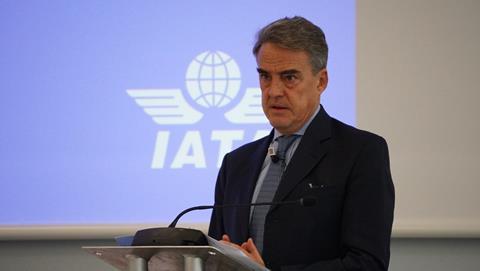 Although airlines have been provided with around $173 billion in assistance since the onset of the Covid crisis, they are forecast to continue burning through $7 billion per month in the first half of 2021, making additional support necessary.
IATA is keen to stress that this extra assistance should not contribute to airline's debt, which has ballooned amid the crisis.
"With potential to safely reopen borders and revive travel with testing, governments will need to add measures that stimulate demand," states IATA chief executive Alexandre de Juniac. "Such targeted initiatives will help generate revenues, avoid adding debt to airlines, and immediately generate economic activity across the value chain."
Asked whether governments are interested in the principle of market stimulation, Mistry responds that "in general they've been positive about this initiative". He adds: "When we try to explain this could lead to an earlier recovery of the industry, this is something that rings a bell."
IATA has identified five ways that authorities could act to stimulate demand for flying.
Firstly, governments could remove or reduce taxes, fees and charges, improving the affordability of air travel for passengers, and bolstering demand.
Mistry cites the example of the US CARES Act, which suspended the domestic ticket tax, the flight segment tax and international arrivals and departures taxes, for an overall reduction of $18 per passenger. Other governments have taken action such as waiving visa fees.
Route subsidies are another potential stimulus method. In addition to promoting demand for airlines, they can help restore tourism links and connect rural communities.
IATA cites Cyprus's programme of providing between €7-17 per passenger if load factors fall below 41%-70%, with a maximum support per airline of €800,000 ($970,000). Since launching at the start of July, the scheme appears to have helped boost the numbers of flights and destinations being operated from the country, IATA says.
Incentives for flight or seats to support operations with low yields or load factors are the third stimulus method identified by IATA. A Greek scheme in operation through April and May, under which the government provided €20 plus VAT for ever seat restarted at a total cost of €6 million, had the effect of kick-starting the recovery in air travel sooner than its peer countries, according to IATA.
Elsewhere, even more interventionist approaches have been deployed.
Hong Kong has purchased in advance 500,000 airline tickets from four home-based carriers, and plans to distribute them to locals and foreign visitors through a 'lucky draw'. The total cost of the scheme is $258 million, with the purchases "providing much needed liquidity to airlines", notes IATA. Such direct ticket purchases represent the fourth stimulus method identified by IATA.
The fifth is travel subsidies in the form of vouchers or cashback on travel costs. This approach has been used by Thailand, where the government has subsidised domestic travel, launched a travel fund for healthcare workers and even provided discounts for hotel accommodation. The result was a "substantial" and sustained increase in domestic travel in June to July, says IATA.