IATA has reiterated its call to governments and slot co-ordinators – including those in the European Commission – to ease slot rules, in light of the escalating coronavirus outbreak globally.
Speaking at a briefing held after a two-day industry workshop in Singapore, IATA chief economist Brian Pearce says "the evidence is very strong".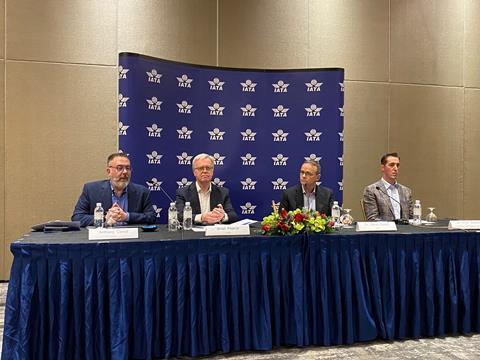 Pearce, however, notes the "partial success" the association hashad in lobbying governments and co-ordinators to ease slot rules.
"We've seen the … slot co-ordinators [in Mainland China] been very responsive to those rules, in the immediate situation. But airlines will need some certainty to plan and to move their fleet to markets which are still seeing demand from consumers. So, they [will] need slot waivers for a longer period of time," Pearce adds.
IATA has also seen receptivity in other markets, such as in parts of Canada and in Australia.
Still, more can be done, and IATA is urging the European Commission, which has not yet moved on easing of slot rules, to "follow the sort of waiver that they have given…during the global financial crisis".
Existing slot rules at co-ordinated airports require airlines to operate at least 80% of their allocated slots under normal circumstances or risk losing the slots for the following season. IATA says 43% of all passengers depart from the more than 200 slot co-ordinated airports.
Pearce's comments come about a week after the airline association urged regulators to suspend the rules governing airport slots for the remainder of the current season, and the upcoming summer timetables.
Asked for its take on travel restrictions, IATA vice president for corporate communications Anthony Concil says that while the association "[respects] the right of governments" to impose restrictions – including travel bans – it is hoping for greater collaboration and clarity.
The World Health Organisation has maintained its position against travel restrictions or travel bans, stating that these do not necessarily stop the spread of the coronavirus outbreak.
Increasingly, a growing list of countries have began imposing restrictions on travellers from outbreak-stricken areas, such as from China, Italy, Iran and South Korea.
Says Concil: "As an industry, our request is that we have some consistency, some advance notice, and absolute clarity, so we understand what [governments] need.
"In some cases, we see these restrictions coming in very quickly, and without much explanation. We need to be able to deal with our passengers and to give them advice, and sometimes that's very difficult," Concil adds.