The Omicron variant of Covid-19 failed to knock the air travel industry off its pandemic recovery path, according to global airline association IATA, with passenger numbers still expected to exceed pre-crisis levels in 2024.
"There is a long way to go to reach a normal state of affairs, but the forecast for the evolution in passenger numbers gives good reason to be optimistic," said IATA director general Willie Walsh on 1 March as the association gave an update on its long-term demand forecast.
IATA cautions, however, that its forecast does not incorporate the downside risks associated with Russia's invasion of Ukraine.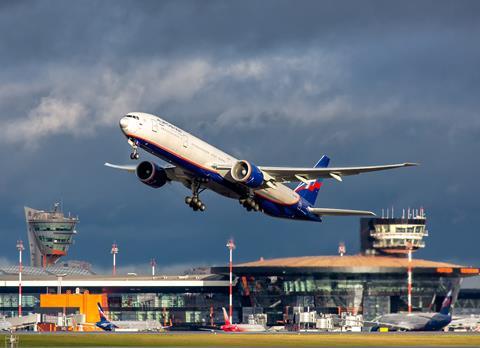 "In general, air transport is resilient against shocks and this conflict is unlikely to impact the long-term growth of air transport," IATA says. "It is too early to estimate what the near-term consequences will be for aviation, but it is clear that there are downside risks, in particular in markets with exposure to the conflict.
"Sensitivity factors will include the geographic extent, severity and time period for sanctions and/or airspace closures," it continues, adding: "These impacts would be felt most severely in Russia, Ukraine and neighbouring areas."
The airlines body further highlights rising energy prices and the avoidance of Russian airspace as potentially having "broader implications" for the industry, as would any harm to "consumer confidence and economic activity".
It notes that Russia was the 11th largest market for air passenger numbers globally pre-Covid, partly driven by a large domestic market, with Ukraine ranked 48th.
Nevertheless, IATA is still forecasting that global air traveller numbers will reach 4 billion in 2024 – a figure that would represent 103% of the 2019 total.
That overall forecast is unchanged from the association's pre-Omicron update in November 2021, after the variant failed to significantly alter the industry's recovery trajectory.
IATA air passenger forecast, March 2022
Source: IATA/Tourism Economics Air Passenger Forecast, March 2022
Passenger numbers,
share of 2019
2021
2022
2023
2024
2025
Industry-wide
47%
83%
94%
103%
111%
International
27%
69%
82%
92%
101%
Domestic
61%
93%
103%
111%
118%
Asia-Pacific
40%
68%
84%
97%
109%
Europe
40%
86%
96%
105%
111%
North America
56%
94%
102%
107%
112%
Africa
46%
76%
85%
93%
101%
Middle East
42%
81%
90%
98%
105%
South America
51%
88%
97%
103%
108%
Central America
72%
96%
102%
109%
115%
Caribbean
44%
72%
82%
92%
101%
Overall traveller numbers were at 47% of 2019 levels in 2021, IATA states, with that measure forecast to rise to 83% in 2022, 94% in 2023, 103% in 2024 and 111% in 2025.
Since the previous update to its forecast in November, IATA says that it has developed a "slightly more optimistic near-term international recovery scenario" based on the relaxation of Covid-related travel restrictions in some markets.
"This has seen improvements in the major North Atlantic and intra-European markets, strengthening the baseline for recovery," IATA states.
It adds, however, that Asia-Pacific is expected to continue to lag the wider recovery, notably as China continues to implement "severe border measures" with no sign of a relaxation in the near term.
In 2021, international traveller numbers were at 27% of 2019 levels, IATA says, with this figure expected to improve to 69% in 2022, 82% in 2023, 92% in 2024 and 101% in 2025.
The slightly weaker outlook for domestic markets versus IATA's previous forecast has offset that improved international picture to an extent, with China, Canada, Japan and Australia still having some way to go in terms of domestic demand recoveries.
Domestic traveller numbers were at 61% of 2019 levels in 2021 and are expected to improve to 93% in 2022, 103% in 2023, 111% in 2024 and 118% in 2025.