IATA will put forward proposals updating long-term airline industry targets to tackle emissions at its annual general meeting in October.
In 2009 the airline body set out a long-term target for the industry to halve its 2005 level emissions by 2050.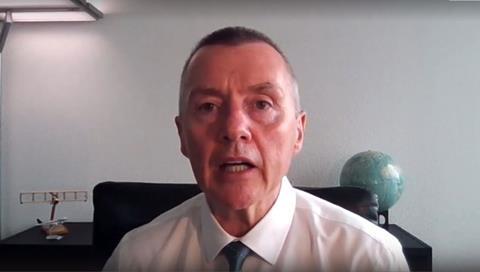 "Clearly in 2015 we had the Paris agreement that set a more ambitious target for climate change," he says. "We recognise we do need to update our targets. Our intention is to bring a proposal to our AGM."
He adds: "I think its also critical that we are credible in terms of what it is we can achieve. There is no point us coming out with a target which we know we cannot deliver on. In setting a goal, we want to be able to demonstrate there is a credible path to achieving that goal."
Though the crisis has heaped financial pressure on the sector, Walsh believes airlines have shown they are prioritising the sustainability issue.
"While airlines are clearly focused on survival as we go through this crisis, it's very encouraging to see airlines right across the world continue to invest in technology to see their environmental performance is improved. So we are very confident that this industry will step up and deal with our impact in a way that will represent a truly fundamental impact to address the footprint the aviation industry has."
During the briefing Walsh and Sebastian Mikosz, who at the start of July took up a new role as IATA's senior vice-president environment and sustainability, pressed the case for the importance of carbon offsetting - notably through the established global CORSIA scheme.
"The reason we are highlighting the importance of CORSIA is because it's in place, it is credible and you will see airlines committing billion of US dollars to credible offsetting," says Walsh. "Anybody who challenges the availability and credibility of these schemes need to look at how much money the industry will be spending."
It comes amid more pressures for aviation to address is environment footprint, especially within Europe where imminent proposals on energy taxation could see an end to the current tax exemption on aviation fuel.
Mikosz argues carbon offsetting is more effective tool than taxes. "We are very concerned by the proposed introduction of a European tax on jet fuel. We are fundamentally against such a tax. We don't see tax rises in the name of environment actually helping the environment."
Walsh adds: "I think if we are genuinely committed to improving the environmental performance of the industry we should take steps to ensure the long-term future addresses all of the concerns, not take short-term measures which may look popular.
"So the correct way to address the situation in the short-term is to use credible and approved offsets. Its also to ensure we make significant investment in the production and availability of sustainable aviation fuels [SAF]."
While not discounting the role hydrogen or other energy solutions could play in cutting emissions, Walsh notes the infrastructure for SAF is already in place.
"I think there is more work to be done on hydrogen than there is on sustainable fuels. If you look at between now and 2035 – when Airbus believe they can have a hydrogen-powered aircraft - we believe in that timeframe that credible offsetting is a significant part of the solution, with the addition of more and more scaled production of sustainable fuels.
"Hydrogen is potentially part of the solution, but I think its beyond 2035."
Mikosz adds that development of SAF will still be necessary, even if a hydrogen aircraft is available in 2035. "We will still need SAF, because the shift in fleet will not be immediate," he says, also noting current hydrogen-powered aircraft developments are focused on mid-range aircraft.
"We need to address what is the biggest chunk of our pollution, which is long-haul, and SAF seems to be the technology that is available as we speak. We just need to ramp it up."
Walsh meanwhile was asked what IATA hoped to see from the European Commission's forthcoming Fit for 55 climate policy proposals.
"What we would hope and what we would expect to see maybe different things," he says. "But it would be very encouraging if in there was a recognition of the benefit of the Single European Sky. I think if it is not addressed, we will really have to question whether the Commission is really committed to achieving these targets, because that is something that can be done with the technology that exists today with little or no financial investment."