IATA has lamented Nigeria's lack of action to address the repatriation of airline funds, after Emirates announced it would suspend services to the country from 1 September because of the issue.
The airline money blocked by the Nigerian government grew to $464 million in July, IATA said on 18 August, cementing Africa's largest economy as a world leader in that regard. Its total has been rising rapidly in recent months, having been at $282 million in April.
For Emirates, the situation is no longer tenable.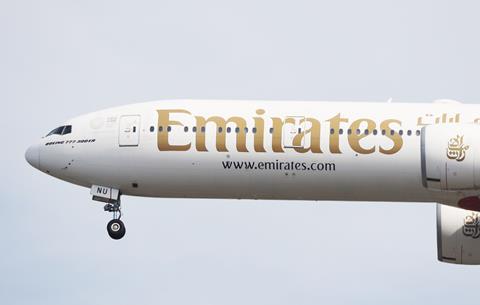 "Emirates has tried every avenue to address our ongoing challenges in repatriating funds from Nigeria, and we have made considerable efforts to initiate dialogue with the relevant authorities for their urgent intervention to help find a viable solution," it said on 18 August.
"Regrettably there has been no progress," the statement continues. "Therefore, Emirates has taken the difficult decision to suspend all flights to and from Nigeria, effective 1 September 2022, to limit further losses and impact on our operational costs that continue to accumulate in the market."
IATA believes Nigeria's government should do more to resolve the situation.
"Airlines can't be expected to fly if they can't realise revenue from ticket sales," it states. "Loss of connectivity harms the economy, hurts investor confidence, impacts jobs and people's lives.
"The government of Nigeria needs to prioritise the release of funds before more damage is done."
For its part, Emirates says it will re-evaluate its decision to stop serving Nigeria, "should there be any positive developments in the coming days regarding Emirates' blocked funds".
Nigeria's Federal Ministry of Aviation has been contacted for comment.
At its AGM in June, IATA it said that blocked funds in Nigeria – then around $450 million – accounted for at least 25% of the global total, which stood at $1.6 billion. African countries accounted for two-thirds of that overall figure, with Zimbabwe, Algeria, Eritrea and Ethiopia also hotspots alongside Nigeria.
"It's going to get to the point where the traveller can no longer afford to travel and the aviation industry will collapse in and out of Nigeria," said IATA's regional vice-president for Africa and the Middle East, Kamil Al-Awadhi, referring to the hike in ticket prices that has accompanied the fund-repatriation issues and the weakness of the local currency.
Despite the challenges around blocked funds, however, Cirium schedules data suggests that for now, at least, a long list of overseas carriers will continue serving Nigeria in September, with Qatar Airways, Ethiopian Airlines, Delta Air Lines, Turkish Airlines, British Airways and Lufthansa among those providing the most capacity.
The issues with fund repatriation are linked to Nigeria's low foreign currency reserves.
Nigeria earns most of its foreign exchange via sales of crude oil, which have been lower than expected this year for reasons including rising theft of the commodity, according to local reports, causing a shortage of US dollars in the country.
Nigeria faced a similar foreign currency shortage in 2016, with blocked airline funds reaching at least $600 million at the time. That situation was eventually alleviated, partly through a government decision to shift away from a fixed exchange rate for the Nigerian naira, with IATA confirming in mid-2018 that the funds had been repatriated.
But difficulty with the repatriation of funds is an ever-present challenge for the airline industry.
Pre-Covid, Venezuela had high-profile struggles in this area, with the issues contributing to a significant decline in the number of overseas carriers serving the country over the past decade.