Iberia has become part of the joint venture between by fellow Oneworld carriers British Airways and Qatar Airways, expanding what had already been described by its founders as "the world's largest airline joint business".
The Spanish carrier extends the joint business's destination list to more than 200, when flights from its Madrid Barajas hub to "tens of destinations across Spain and Portugal" are included, Iberia said on 25 July.
BA and Qatar Airways founded the joint business – under which the carriers share revenues and cooperate on schedules and pricing from their respective hubs – in 2016 and expanded its network scope in September last year to cover around 185 destinations across more than 60 countries.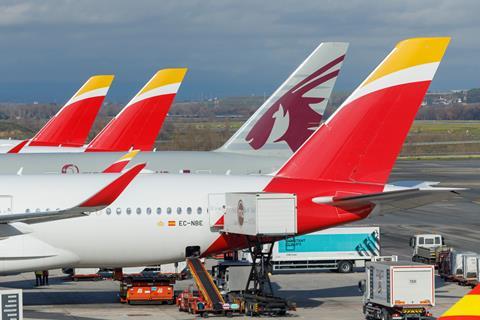 As part of its accession to the arrangement, Iberia will offer daily flights to Hamad International airport from mid-December with an Airbus A330-200, adding to twice-daily connections to Madrid Barajas offered by Qatar Airways.
"Through [joint-business] hubs in London and Doha, we are building the much-desired bridge between Spain and more than 200 destinations in Asia, Australasia, the Middle-East and Africa, and offering new opportunities for travellers in both directions," says Iberia chief executive Fernando Candela.
Members of the three airlines' loyalty schemes will be able to transfer their common currency – Avios – between accounts and combine balances, Iberia notes.
Analysts have previously described the joint business between BA and Qatar Airways as a competitive move to counter the strength of Emirates' Dubai International airport hub. The UAE carrier also notably adopted Qantas as a partner in 2013, at BA's expense.
Qatar Airways has a 25% stake in BA and Iberia's holding company, IAG.