Icelandair says that it has made contingency plans so that the renewed delay of the Boeing 737 Max's return to service will have minimal impact on its summer 2020 schedule and its financial bottom line.
The airline had previously expected the aircraft to re-enter service in May 2020.
"In the light of recent news from Boeing on the ongoing process in cooperation with international aviation authorities of returning the Boeing 737-MAX aircraft safely back to service, Icelandair does not expect the Max in operation within its route network during the high season of next summer," Icelandair says in a statement on 21 January.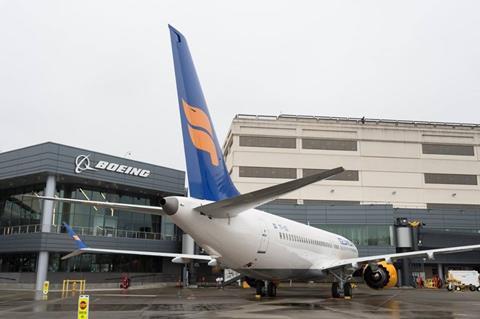 Boeing said earlier on Tuesday that it now expects the Federal Aviation Administration will re-certificate the 737 Max in the middle of 2020. The company's latest projection "accounts for the rigorous scrutiny that regulatory authorities are rightly applying at every step of their review of the 737 Max's flight control system, and the Joint Operations Evaluation Board process, which determines pilot training requirements," the Chicago-based company said.
The Icelandic carrier adds that it had already entered into leasing agreements for three 737-800 aircraft, and it will keep more 757 aircraft in operation than it had originally planned. Currently, the airline operates 27 757 aircraft and four 767s, Cirium fleets data show.
It has six 737 Max jets, a mix of Max 8s and 9s, in storage and ten more on order.
"The financial impact of this further suspension will be considerably less this year than in 2019," the airline says. "The current leasing agreements were made further in advance than in the year 2019 and are therefore on better terms." Icelandair's own crews will operate the additional aircraft this year. In 2019, the airline had to hire external crews, adding to the financial burden.
The airline also says it has come to two "interim agreements" with the aircraft manufacturer regarding compensation for the losses incurred due to the grounding of the aircraft, which is now in its 11th month, and that "continued discussions with Boeing regarding further compensation are ongoing".