India's coronavirus crisis has seen daily departures drop below 100,000, with numerous countries suspending virtually all travel from the South Asian country.
According to the most recent statistics from India's Ministry of Civil Aviation, daily departing passengers fell to just 80,596 on 4 May, a fraction of the 400,000 daily passengers that India would typically see before the coronavirus pandemic.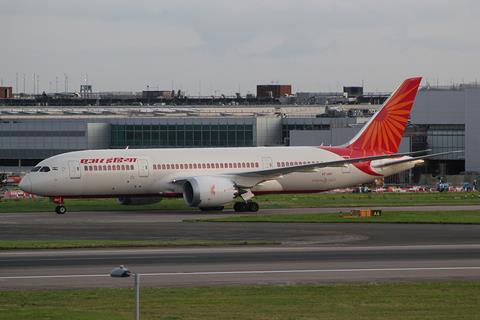 In a research note, brokerage firm ICICI Securities observed that daily average fliers fell to 126,000 in the week ended 1 May, a 17% decline from the previous week. In addition, the number of passengers per departure fell from 81 to 84.
The weak numbers represent a sharp reversal for India's airlines, which ICICI says saw an average of 280,000 departing passengers daily between 21 February and 21 March, when the country's domestic air travel market appeared to be riding a strong recovery.
Separately, concerns about a new strain of the virus in India have seen several countries bar arrivals from the country, apart from citizens and permanent residents who will be subject to Covid-19 tests and quarantines.
Key air travel markets that have stopped passenger services from India include Bangladesh, Singapore, Bangladesh, the United Arab Emirates, and several other countries. In most cases, however, cargo services are still allowed.
Australia has even banned its own citizens from returning if they have been in India during the last 14 days, threatening them with prison time. The move has proven controversial, but Australian officials have defended their decision.
"We have taken drastic action to keep Australians safe, and what we face in India is a very serious situation where the medical advice provided to the federal government has been to put in place these strict measures," says treasury secretary Josh Frydenberg, according to an Australian Broadcasting Corporation report.